Alphabet of Stitches
Designed by Dawn Fisher of
Morning Glory Needleworks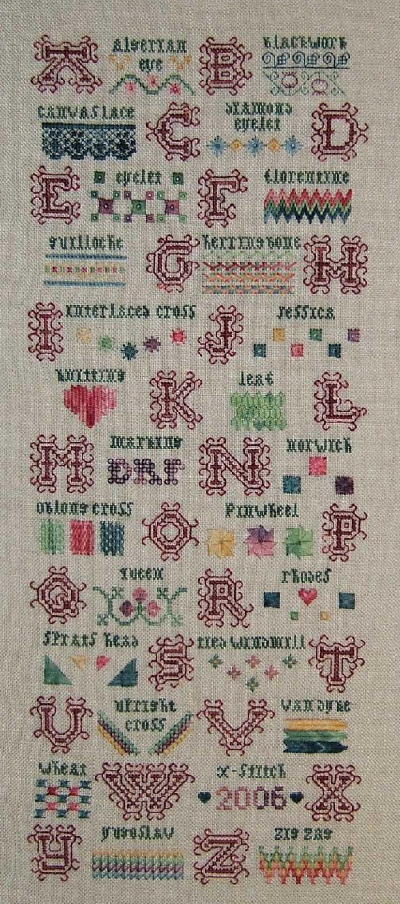 The Alphabet of Stitches sampler was stitched on 32 count Water Lily linen using eight colors of over-dyed threads from The Gentle Art.

This is an alphabet sampler with a twist – a different stitch for each letter of the alphabet starting with Algerian Eye and ending with Zigzag! From A-Z the stitches taught will be: Algerian Eye, Blackwork, Canvas Lace, Diamond Eyelet, Eyelet, Florentine, Guilloche, Herringbone, Interlaced Cross, Jessica, Knitting, Leaf, Marking, Norwich, Oblong Cross, Pinwheel, Queen, Rhodes, Sprats Head, Tied Windmill, Upright Cross, Vandyke, Wheat, X-stitch, Yugoslav, and Zigzag.

This fun sampler is like an appetizer plate - it will give the stitcher a small "taste" of each stitch without being overwhelmed.

The size of the finished piece is approximately 5.5" wide by 13.75" long on 32 count. The yummy colors used are Hibiscus, Raspberry Parfait, Pine, Mistletoe, Peacock, Red Plum, Buttercrunch, and Deep Sea.
Contact Dawn Fisher for teaching availability.