2009 Alumni Retreat Fun Report!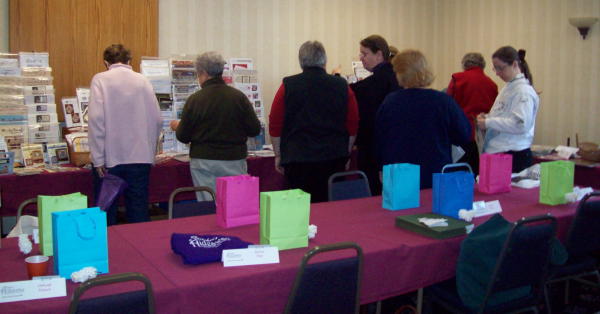 It was so wonderful to get away to stitch together at the 2009 Alumni Retreat! What a relaxing weekend! We gathered at our home-away-from-home at the Mystic Comfort Inn (Mystic, CT) for two full days and nights. The room was cozy and when everyone arrived they each had a gift bag waiting for them. Chris's Collection set up shop for us right in the same room, so of course we jumped right into shopping immediately -- as if there was going to be some future stash famine! LOL!
This group of stitchers came from CT, MA, NH, NY, DE, NJ and IL. I guess we were lucky that there were no snow storms during the retreat this year -- but at the same time, I think some of us missed seeing the white stuff fall as we stitched nice and safe inside! Shortly after the retreat, rain and snow, depending on where you were, did come in. In fact, Linda from Maine just about made it home when a storm came in and piled 18 inches in about 12 hours. Look at her house! Those Mainiacs just have too much fun!!!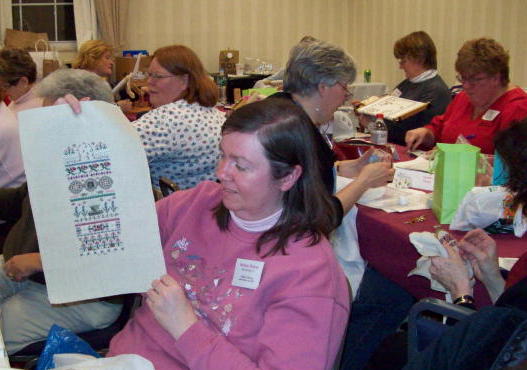 Each person brought in whatever they wanted to work on, so there was a great variety among projects. It was pretty much a show 'n tell experience all weekend because like any normal stitcher we had to check out each other's work!
Here's Barbara on the left showing one of her masterpieces.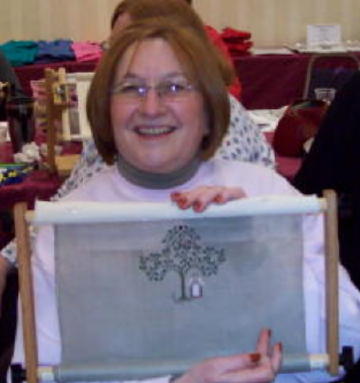 And here's Pat on the right with one of her works-in-progress.
We had lots of time to just visit with each other -- it was great!! And in between stitching, talking and shopping for stash, we had fantastic meals delivered to us! Some of us chose to stay right there and stitch ourselves cross-eyed, while others took breaks and visited shops in the area.
One particular shop was causing a lot of laughter among us. The shop, which shall go un-named, was a bit off the beaten path in location and a bit unusual. Actually, what was most unusual was the owner! Stitchers kept coming back and relaying odd conversations they had with the owner, who sort of just blurted out anything and everything that was on her mind. They did come back with some interesting purchases, like this beaded frog purse that Nancy is modeling below!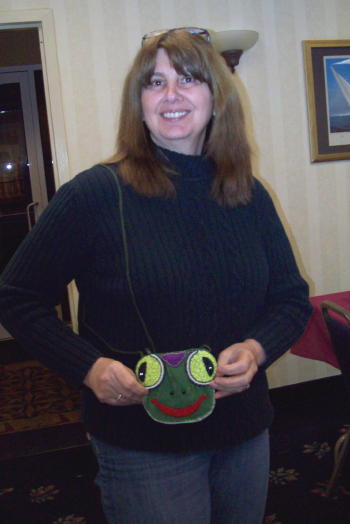 So all this chatter and the unusual purchases got me curious. I went over by myself after the retreat. It was unusual -- and so was the shop owner! At first she was tied up on the phone so I didn't hear anything from her -- except all the personal details of her conversation with her daughter - LOL! And then her phone call ended and my fun began. She showed me a picture captured on her digital camera -- she had been to Obama's inauguration -- "I haven't been to anything this historic since Woodstock," she said. Now that began to explain a lot of things. It so happens that I went to Woodstock, too, and was even in the movie (with clothes on, thank you) and in NewsWeek (without clothes, no thank you). Ah, youth. So we spent a chunk of time talking about our experiences there, and this is what I have concluded: some people went to Woodstock and never came back. LOL!! But seriously, she had some very fun and unusual items in her shop, and I purchased a few. And I would definitely go back there again!
Since Chris's Collection was able to be set up in our stitching room, Chris and Pam were able to stitch and relax with us. They are a couple of sweeties and so fun to be around. They had just come back from the needwork market and had many new stitching toys, tools, and designs to tempt us!
| | |
| --- | --- |
| | |
| Here's Chris showing us a work in progress.. | ...and here's Pam with a completed project |
| | |
| --- | --- |
| | |
| Mikki was working on her Mystic Smalls project (Victoria Sampler) from the Mystic 2007 retreat... | ...and Joanne showed us her completed Sweetheart Tree projects from the Mystic 2008 retreat. |
| | |
| --- | --- |
| | |
| Sisters Bev and Mary shooting the breeze. | Nancy shows her projects to Linda. |
Here's Peggy with her finished "Alphabet Sampler" by Morning Glory Needleworks -- a retreat project from the Winter Escape 2007 retreat, and here's what she had to say about the retreat:

"Sue - I can not tell you what a good time I had this weekend. I truly love the alumni retreats. I think the analogy of this as a "stitching cruise without the Dramamine" is great. You show up, stitch to your hearts content with great friends and the food keeps showing up and it is sooooooooooooooo yummy. The weekend is guilt free because you are not starting yet another project that you may or not ever finish. And if you want to get up and take a nap in the middle of the afternoon--you don't miss anything--except maybe some juicy tidbits. I can not wait for next February!! You are the best!!"

~ Peggy
Nancy Boyarsky of Glory Bee Designs joined us at the retreat. Here she is holding two of her newer designs.

"Stitchers Hideaway Alumni Retreat is now my favorite. Sue always hosts a wonderful retreat but the alumni retreat has no schedule, no class, and no teacher. What it does have is fun~food~and friendship! We take over a function room at a nice hotel for two days of uninterrupted stitching time. We have Chris's Collection right in the room so we can stitch, eat and shop to our hearts content. Stitch as little or as much as you want. The food is fantastic. And most of the people have been at different retreats so you get to meet up with friends from previous retreats. I can't wait until next year!" ~Nancy
FROG ALERT!!!
Oh, how heinous! Frogs appeared at our retreat! Many stitchers know that when the frog has appeared, it means that someone has made some stitching mistakes and they must now "Rippit....Rippit....Rippit!"
Pam frogged me with a very modest frog!

I frogged Chris with one that sings
"You Give me Fever!
We even had frog cupcakes!

You know, I really think we need a close up of my modest frog nestled among Stitcher's Hideaway stash!!

During our last night together we took time for some official Show 'n Tell. We are so awesome!

Bev amazed us with her beautiful blackwork.


Mikki brought in a masterpiece that looked like an incredible oil painting from the distance!
| | |
| --- | --- |
| | |
| Sharon showed us a cool thing she made to roll up her needlework projects in. It was made out of a quilted placemat. | Roberta showed us a work in progress. |
Mary showed us a project she has been working on forever...
And her sister Bev declared herself a Fine Purveyor of Charts.
(Well, it's a tough job, but somebody has to do it!)
Deborah peeks out from her stitching...
Joanne shows us her work in progress...

...and Mikki shows us a breast cancer survivor design,
with Sharon by her side.
| | |
| --- | --- |
| | |
| Pam showed us a Blackbird Design she's been working on... | ...and Peggy did the under-the-chin maneuver to show us a very large work in progress! |
Peggy and Roberta showed us the same design done in different color choices! Here's yours truly showing my Hare Pyns - designed by Patrick's Woods.

Well there you have it, folks. A little glimpse into our wonderful, cozy, relaxing, fun stitching weekend. It was SO great to just hang out with each other -- another great memory to cherish!