Stitcher's Hideaway
2010 Alumni Winter Escape
Fun Report!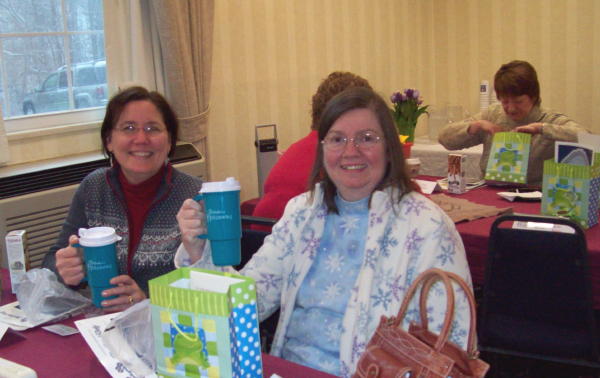 Ramona and Barbara

Woo-Hoo!

What a BLAST!

Thirty-five stitchers gathered for two days of bliss -- stitching, eating and stash enhancement! We came from CT, FL, MA, ME, MN, NH, NJ, NY, and OH! Imagine those addicted stitchers traveling to New England from so far away in the middle of winter to hang out with other stitchers! LOL!

What dedication!

What devotion!

What insanity!!

Well, their trip was worth it! It was the best!

As usual, most attendees arrived the night before, which was excellent because we had a little "mixed precipitation" (Yankee translation: rain, sleet, snow, wind, slush). We didn't care! We got to watch it through the windows as we stitched away in comfort inside. That just made it all the more enjoyable!

Everyone brought in whatever projects they wanted to work on and it was great to see each other's WIPs (works-in-progress). Some worked together on the same projects, talking each other through the finishing. It's so nice to have such an appreciative audience to show off what you've accomplished!

Just imagine a classroom with that many enthusiastic stitchers! The conversations flowed with giggles, laughs, and exclamations peppered throughout.

Lauren & Deb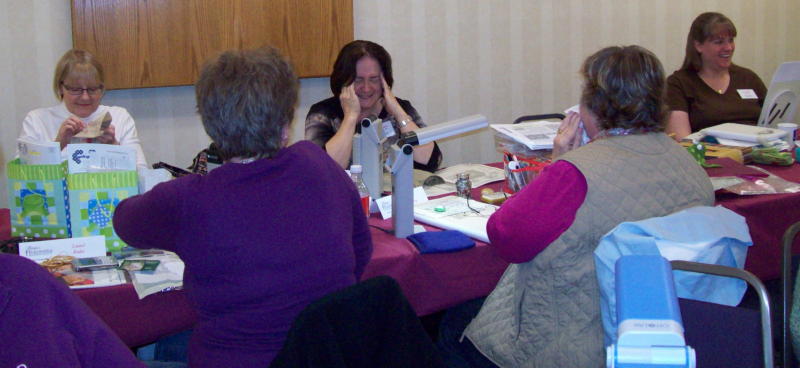 Debby laughed 'til she cried! LOL!
Pamm, Joni, Jane
Barbara, Gail, Cynthia
We had great door prizes donated by Brightneedle, Celebration of Needlework, Earth Threads, TheGift of Stitching, Jeannette Douglas, Karen Capello (a Stitcher's Hideaway alum), Olde Colonial Designs, Trail Creek Farm, and With My Needle. And among some adorable gifties in our Fun Packs were donations from Brightneedle, Elizabeth's Designs, Nordic Needle, Rosewood Manor, The Prairie Schooler, Trail Creek Farm, and Victoria Sampler! Our donors were very generous and we were so tickled! Everyone received a Stitcher's Hideaway mug and many used them right away!
Jeannette with doorprize from Earth Threads

Laura with doorprize from
Jeannette Douglas Designs
Nancy and Valerie with doorprizes from Jeannette Douglas Designs
Debby with doorprize from With My Needle
Joanne with doorprize from With My Needle
| | |
| --- | --- |
| | |
| Liz with doorprize from Trail Creek Farms | Lauren with doorprize from Stitcher's Hideaway |
Joni received a door prize from Brightneedle!
Chris from Chris's Collection set up shop for us...and we went on a stash enhancement frenzy! LOL! Chris had just returned from the February needlework market and had lots of new designs for us to choose from!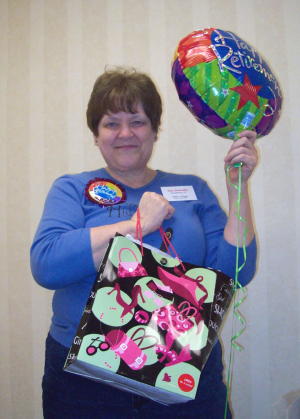 The Wednesday before the retreat was my last day of working full-time! Yes, I retired!! Wheeeeee!!! And I was in a very celebratory mood! Imagine what fun it was for me when I was presented with a Happy Retirement Cake, balloons, sparkling grape juices, gifts and cards at the retreat! That was certainly unexpected and thoroughly enjoyed!
In fact, my retirement became a running joke throughout the retreat. It might have started when I said I didn't have to do something or other and asked, "Do you know why?" They said no, and I said, "Because I'm retired!" So everything was "because you're retired" all during the retreat. There were a lot of laughs over it.
One gift came in a "talking" bag. When you open it you hear a voice saying, "You're just fabulous. You're really super. You look good, you feel good, and gosh darn it, people like you! You go!" LOL! Of course, I opened up the bag dozens of times just to listen to it. In fact, I still do that at home! Just plain makes me smile. (Thanks, Linda!)
Many of the stitchers know each other from attending Stitcher's Hideaway retreats, needlework guilds, and other events. You should have heard the conversations going on all at once as everyone brought each other up-to-date on their lives.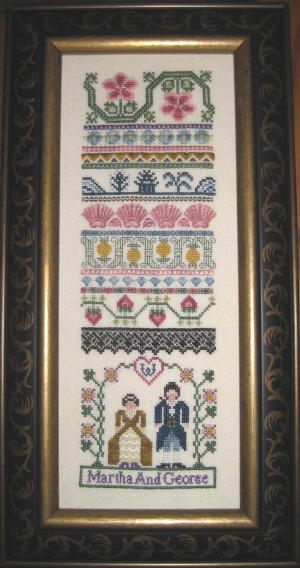 Dawn Fisher of Morning Glory Needleworks came to the retreat and brought along her latest design, the Martha Washington Sampler, so that we could see how awesome it looks framed! Dawn will be teaching at the Stitcher's Hideaway Sturbridge 2010 retreat. Along with teaching the stitches used in the Martha Washington Sampler, she'll be sharing fascinating history of Martha Washington's life.
Dawn also brought in some stitched models! We loved her stuff! They sold like hot cakes! LOL!! There's nothing quite like seeing a stitched model! I bought two of them myself, since I'm sure to get them done...now that I'm retired!
I had to get the "Always Kiss Me Good Night" in blue! Shhhhhhh....I'm stitching it for my husband....shhhhhhh.
Speaking of my husband (Michael), he and my Dad came to the retreat (Dad was my Show 'n Tell - LOL!). Michael made his outstanding baklava for us. Dad went into the classroom after lunch and checked out our stitching. He is always fascinated with what I make, especially things that involve finishing/construction like etuis. He has worked in wood all his life -- carving, making furniture, repairing antiques, and all sorts of handyman type stuff. He can't help but admire anything handmade. Dad was totally cute and a lot of the stitchers wanted to take him home with them! He's 88 years old and has been the best daddy any girl could ever ask for. Dad lives with Michael and I now after having some little strokes that have impaired his memory and communication skills, but he's still dear ol' Dad. He is a WW II hero who fought in the South Pacific. If you'd like to read his story, visit his website!
All during the retreat we were showing each other our projects, but we also had an official Show 'n Tell time, too!
Karin

Liz with her stitching masterpiece.
(Liz received a special gift for being the
Most Pregnant Stitcher!

We are so awesome!

Jeannette with another masterpiece

Ta-dah! Barbara's framed beauty!

Joan finished this at the retreat!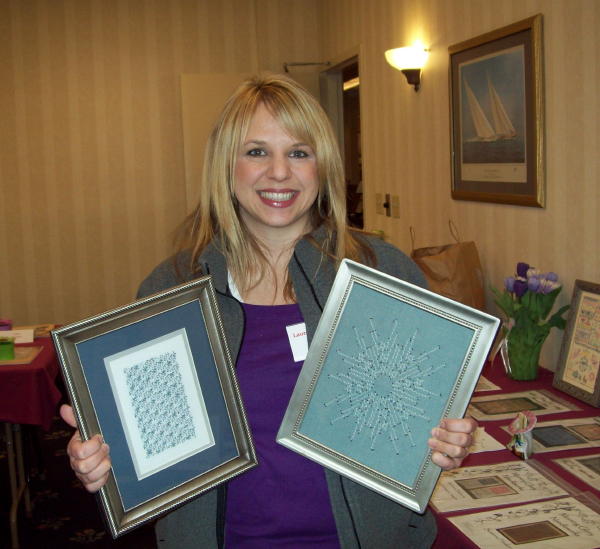 I think you will find this interesting. Lauren showed off her science-inspired needlepoints. Her love of science does not end when she leaves the lab. She designs needlepoint patterns based upon chemical structures. Shown in this picture are two of her patterns - a cholesterol drug and an inflammation molecule. She is currently working on patterns for drugs to treat breast cancer, heart disease, sleep, anxiety, and many more! Isn't that amazing?
This one represents the chemical structure of a cholesterol drug. It's done with beautiful beading.
Karen stitched both of these beauties, and the one below.
The one on the left was stitched in memory of her grandmother.
The angels on the top are holding her engagement and wedding rings!
But let's talk about FOOD a moment, shall we?! Mystic Market Caterers arrived on schedule with awesome offerings. We ate like Royalty!! Mmmmmm. Some stitchers also brought in homemade treats to share and we all enjoyed that! Donna from NY shared "Easy Chocolate Brittle" and Karin from NH shared "Oven-made Caramel Corn." As we say in New England, they were wicked good! Here's the recipes for both (I'm pretty sure that there were no calories in any that I consumed because....I'm retired!).
Easy Chocolate Brittle

Oven-made Caramel Corn

Saltine Crackers (with salt!!)
1 stick of butter
1 cup of brown sugar
1 bag of chocolate chips
nuts (almonds sliced)

Preheat Oven to 400 degrees. Grease 9 x 11 cookie sheet (and the sides of the cookie sheet). Line the pan with saltine crackers. On the stove top- melt butter & brown sugar and bring to a boil. Pour this mixture over the crackers and put in the oven for 5 minutes. Take out of the oven, turn the oven OFF and pour choc chips on top and place back in the oven until soft. Spread over/smooth choc chips evenly. Sprinkle nuts on top. Refrigerate until cool. Break apart pieces. Double this recipe for large cookie sheets.

6 quarts freshly popped corn (about 1 cup unpopped corn) (I used 3 regular-sized microwave bags)
1 cup dry-roasted peanuts (I found the honey-roasted and used those)
1 cup pecan halves or pieces
1 cup butter or margarine (I used butter. Of course I did).
1 cup firmly packed brown sugar
1 cup sugar
1/2 cup light corn syrup
1 tsp salt
1/2 tsp baking soda

Combine popped corn, roasted peanuts, and pecans in a large roasting pan. Melt butter in a large saucepan; stir in sugars, corn syrup, and salt. Bring to a boil; boil 5 minutes, stirring often (temperature will be about 244 degrees). Remove from heat; stir in baking soda. Pour sugar mixture over popped corn and nuts; stir well. Bake at 250 degrees for 45 minutes, stirring every 15 minutes. Cool. Store in an airtight container. Yield: 6 quarts.
Valerie emailed, "I made this popcorn last night......my son said it is "Amazing". He was eating it as I took it out of the oven to stir each time. I brought it to work today and everyone wants the recipe. Of course, I've had my fair share also and it is as close to Fiddle Faddle as you can get. I love it when I get really good recipes that are close to what you would buy in the store. Please forward this to Karin and tell her THANK YOU!!! It is really AMAZING!!!"
When we first arrived at the retreat, we looked like total babes. After the first night of staying up way too late, some of us began to look, well, a little disheveled. I, for one, declared the second day a make-up free zone for myself. Dress became more casual. Hair brushes were misplaced. Silliness totally set in.
Beware!

Terre can't even sit up straight!

Madeline?

Mary. Still laughing.

Um...okay.

Never one to disappoint -- Joanne becomes disheveled

Although Nancy's cake was stitched, it did not keep me from attempting to devour it.
After all....I'm retired and I can eat whatever I want!
As the evening ended and we began to say our goodbyes, my tired body caught up with my mind and I started really losing it! Even more than normal! LOL! I was SEW tired I could hardly think straight. I couldn't find my car keys. Once you retire, these things can happen to you. Finally, I gave up looking and consumed massive quantities of fudge and cookies. Dawn decided she couldn't let me overdose alone.
Definitely starting to get sick here....but wow, that fudge was good....
Ramona took this picture and said it should be captioned,
"Post-traumatic syndrome: what happens when you lose your keys for an hour!"
She said my eyes were rolling around in my head at that point,
leading her to believe that it was much later than it was!
After a massive sugar rush I was able to find my keys, and then returned for some more chocolate to de-stress. Remember that ladies...if you lose something, consume chocolate to clear your head. Then again, why bother waiting until you lose something?
After packing everything up I went out to the hotel lobby to visit with the stragglers, who were lounging on comfy chairs and sofas, some still stitching. I gave them the rest of the chocolate (heh-heh). There I found Laurel who demonstrated the proper way to stitch...with a hunk massaging your feet. I definitely need to try that.
Mikki, Darlene and Cyndi lounging
Chris curled up on a chair
All the attendees were given a Winter Escape Challenge - a chart to stitch up any way they want, using whatever fabric, fibers, colors, embellishments they'd like. Once completed they'll send me a picture of their finished project and I'll choose a winner (totally based on my own personal tastes!) and that winner will receive a free registration to Winter Escape 2011! I'll be choosing a winner by September 1, 2010 and will post all the entries on the website. I can't wait to see what people dream up! I love creativity!
The retreat was certainly a lot of fun -- and many of us finished up or made great progress on our WIPs. And oh -- the conversation and laughs!! LOL!! I can't wait until next year!
Sue
Thank you again for a really lovely weekend! You're a wonderful hostess!!! Thanks, too, for all the goodies! While I can't get to Sturbridge, I hope I can get to another retreat soon (it will depend on finances and vacation time). At the very least, I want to get to the Alumni retreat next year. Am I an alumni now? : ) Blessings, Joan

We had so much fun at this retreat, no pressure to keep up with the teacher, lots of time to catch up and goof off. I did manage to get some stitchin done. So how does it feel to not have to get up every morning and go to a real job? Isn't it nice!! Donna S.

As always, I thoroughly enjoyed my weekend at Stitcher's Hideaway Alumnmi Retreat. It was great to see so many familiar faces and work on any project(s) that peaked my interest for the weekend. I was able to make great progress on a BAP that I couldn't seem to find time to work on. And the food - great as always! Who could ask for more? Looking forward to the next retreat. Thanks for all your hard work and energy. ~ Cynthia

The 2010 Mystic Alumni Retreat was without a doubt, the most FUN Retreat I've ever attended!!! OMG, I swear my face hurt from laughing for days! We met 2 new hilarious stitchers that sat with us (Laura and Nancy) and we all just had a blast! I got so much stitching done, and Madeline finished 2 or 3 projects... what's not to love about that? Got some yummy recipes, too. And let's not forget about the STASH ENHANCEMENT at Chris's Collection! I indulged myself as usual and found some great new projects for this summer.
I'm so glad I and my posse (Karen, Nancy, and Madeline) made it to Mystic. We all had the best time and I'm sure we'll be talking about it all year. We all want to attend the next one without a doubt! The food was great, the company even better, and here's a big THANK YOU SUE for making it all possible for us!!
I just have to tell you how much BETTER my morning COFFEE tastes in my stylin' new STITCHER'S HIDEAWAY mug!! Thank you again for such a great time, and I can hardly wait for the next one!!!
WOO HOO!!!!
~ Karin (Who Supports Her Girls...)

Great weekend, thank you for all your hard work. ARE YOU STILL RETIRED? lol ~ Gail

The Stitcher's Hideaway Alumni Retreat is my favorite retreat! I attend several retreats each year, as a teacher and as a stitcher, and this is one of my favorites. We have the best time. There is so much laughter, such good food, and you can actually finish an old WIP or start a new project. The hotel is very nice and the food never-ending.
I came down with three of my friends from our "Sunday Stitch Group" and we all had a great time. Each year I tend to sit with a different group of stitchers and this year we sat near Laurie and Nancy. They were so sweet and funny! My stomach still hurts from all the laughter. It's also nice to meet up again with the core group that attend Sue's retreats.
Can't wait until next year, it's already penciled in my calendar.
Nancy Boyarsky (Glory Bee)

The February 2010 retreat was my first Stitcher's Hideaway…and it certainly won't be my last! It was such a pleasure spending two days with so many wonderful ladies who all have the same passion as I. The Stash Enhancement Sack was absolutely fantastic; I've spent quite a bit of time going through it and enjoying looking at all the goodies. Having Chris and her Collection was certainly a nice bonus (even though I do only live twenty minutes from her), listening to everyone's stories, checking out others' projects during show and tell…and watching it snow! (Thank goodness there wasn't any accumulation.)
I hope everyone is enjoying the spring and is making excellent progress on whatever project(s) she is working on!
~ Ramona Haflin

Sue, I wanted to thank you and all of the Alumni for once again making me feel so welcome. I have met so many wonderful people at the retreats. Meeting and spending time with Debbie and Dawn was an extra special treat. I really enjoyed catching up with Joanne and seeing Mystic. I can't wait for the next one. I am including some snap shots of the harbor (see below), I just love the scenery in downtown Mystic. Hope to see you all again soon.

~ Valerie

As a first time Hideaway-er, I didn't quite know what to expect. Karin Johnson told me a few things and vowed we'd have a good time, but I REALLY had a good time! Everything was perfect for a weekend of relaxation, plus I was able to finish a project every day I was there, plus start another. I met some absolutely lovely people there and had more than a few LOL moments. Our table had more than a few comediennes- Laura from the Thistle is a laugh-riot!
I came home from there and started planning out my Winter Escape Challenge pattern- I am going to win, so just put my name in for next years' Alumni Hideaway! Just joking, let the best designer win!
Thank you so much for a great minivacation and I'll see you at the next Winter Hideaway!
~ Madeline

I tthought it was funny when Debby called me just as I was pulling into Mystic to say "call me when you get here". I said, as soon as I pick up some scotch and a salty snack and SHE said - I already have that stuff for you! So cool how a woman from Maine, that I met at your event in Florida, knows this Minnesota girl so well and is such a good friend! Thank you for making it possible for that to happen in my life! ~ Mary
Lauren demonstrates the
Loooong Stitch

Pamm's beautiful work in progress
| | |
| --- | --- |
| | |
| Laurel & Chris admire a design | Beverley - Just chillin' |
Valerie's Mystic Harbor pictures -- how different it looks on a winter's day!
Return to Stitcher's Hideaway Home Page