Stitcher's Hideaway
2011 Alumni Winter Escape
Fun Report!
Woo-Hoo!! Stitcher's Paradise!! Two days of stitching, laughing, stash enhancement, feasting and fun!! If only it never had to end!!
Stitchers arrived at the retreat first thing in the morning to discover that the stitching room had been frogged!! Everywhere!!
(Note to the uninitiated: when a stitcher says that the "frog" has visited them, it means they have made an error and now have to remove their stitches -- rippit...rippit...rippit).
They each received a Frog Fun Pack with wonderful donated goodies from Blue Ribbon Designs, Calico Crossroads, Chris's Collection, Elizabeth's Designs, Giulia Punti Antichi, Jeannette Douglas Designs, Lavendar Wings, Morning Glory Needleworks, Nordic Needle, Rosewood Manor, Sew Inspired Needlework Finishing, Stitcher's Hideaway, Tempting Tangles, The Prairie Schooler, Trail Creek Farm and Victoria Sampler!
And that's not all! Throughout the retreat doorprizes were given out from Blue Ribbon Designs, Brightneedle, Celebration of Needlework, Elizabeth's Designs, Jeannette Douglas Designs, Morning Glory Needleworks, Rosewood Manor, Sew Inspired Needlework Finishing, Stitchy Kitty, Tempting Tangles, The Prairie Schooler, Trail Creek Farm, Victoria Sampler, Weeks Dye Works, With My Needle, Karen Capello (a friend of Stitcher's Hideaway), and Stitcher's Hideaway (of course!).
This crazy group of stitchers came from CT, MA, ME, NH, NJ, NY, RI -- and, would you believe it, Colorado! In the middle of our wild and crazy New England Winter! Joanne, who has a reputation for being disheveled at the retreats, was the one who traveled the farthest. She received a gift certificate from Stitcher's Hideaway that stated:
Be it Hereby Known that Joanne
by Virtue of Having Traveled the Farthest
and for being the
Most Consistently Disheveled
is Hereby Awarded this Gift Certificate!
Joanne, who once again did not disappoint us, received her certificate in a stunning-as-usual disheveled state, much to our delight!
There was definitely a naughty girls table that was totally out of control!! The hysterical laughter had many of them doubled over. I have decided that I'd better give out Depends in the Fun Packs next year, for all our sakes!
At the Alumni Retreat, everyone brings whatever they'd like to work on. There was a lot of stitching going on, but there was also a lot of chatter and silliness! Stitchers came and went as they pleased -- some left the premises to visit a local bead shop and other shops-- some stitched out in the lobby -- some left for naps -- always returning for the delicious catered meals, doorprize giveaways, and for our incredible Show 'n Tell!
The stitching room was opened at 8 a.m. both days and we stayed as long as we could keep our eyes open. On Saturday night some were still some stitching at 2:00 a.m.!
Chris's Collection set up shop for us and we all enjoyed taking breaks to see the new designs that Chris brought back from the recent needlework market. Really nice stuff!!
So...since there wasn't much of a schedule to this retreat, what you are about to see is a collection of pictures taken randomly during our weekend together.

Cyndi and Mikki
Ramona and Roberta
| | |
| --- | --- |
| | |
| Madeline? | Darlene with a WIP (work in progress) |
We had such delicious meals!!
Look at our beautiful Flower Cupcakes with little bees and lady bugs on them!
Nom...nom...nom...
Linda with door prize from Elizabeth's Designs -- a wonderful new release!
Kathy flipped when she won a door prize from the Celebration of Needlework!
Uh....whatcha got in that bottle, Donna?!?!?
| | |
| --- | --- |
| | |
| Cyndi with door prize from Karen Capello | Bulge, the Mutant Frog |
Terre received a door prize from Jeannette Douglas Designs!
Gayle and Amy - My posse in their Stitcher's Hideaway fleece jackets!
They are so darn cute!!
Jeanne with door prize from Karen Capello (note frogs in window...hehehe).
Joanne the Disheveled, with Pam the Neat.
Chris, from Chris's Collection, with Donna

Jaime showed up in her moose jammies one day and posed for me! Hehehehe...

Laura with door prize from Brightneedle.
Roberta with door prize from Karen Capello.
Darlene with door prize from Stitchy Kitty.
There were no calories in these desserts.
Joanne and Karen with frog statue.
The Rhode Island gals presented me with gifties!
Lisa Anne made a beautiful ort holder and covers for my Q-snaps (one with frog fabric, of course!).
They're wicked cute and you'll all be jealous when you see me use them!!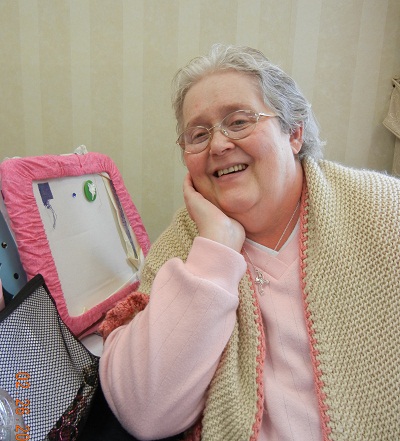 Kathy -- with one of those cool Q-snap covers made by her daughter Lisa Anne.

I also received an "I'd rather be stitching" license plate thingy and a beaded frog scissors fob!


The Rhode Island Stitchers


Donna also made me a gorgeous beaded scissors fob!
I am one lucky stitcher!
Seriously, we actually did get some stitching done!
Some of us actually finished up some WIPs!
Some of us...okay, I don't know what we did!!
We certainly had a fantastic Show 'n Tell Session!!!
| | |
| --- | --- |
| | |
| Amy | Bev |
| | |
| Gayle | Joanne |
| | |
| Karen | Barbara |
| | |
| | |
| Karin | Laurel |
| | |
| --- | --- |
| | |
| Marie | Romona |
| | |
| | |
| Nancy | Melissa |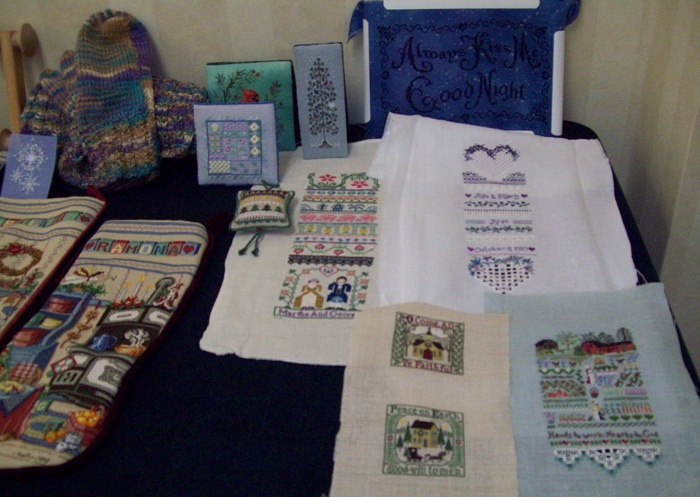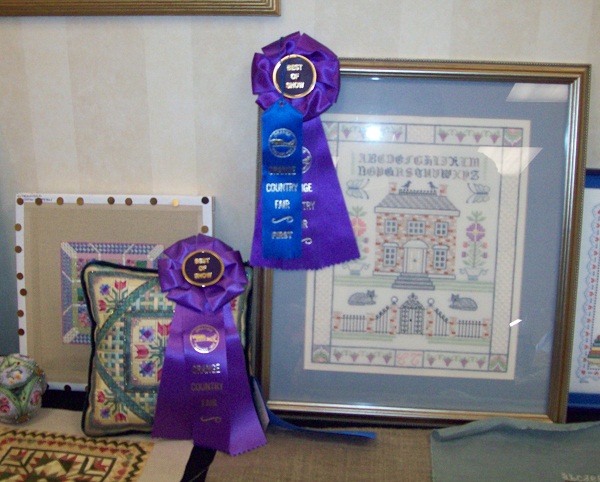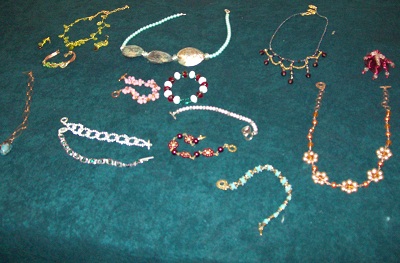 We were all quite impressed with ourselves! LOL!!
And now I'll let some of the stitchers tell you about the retreat!
Once again, thanks for hosting such a marvelous retreat. I thoroughly enjoyed myself. Actually, I was grateful to go to my room and take a nap on Friday afternoon. I think I really needed it. It was great to see familiar faces and catch up, as well as meet some new stitching buddies that I've already connected with on Facebook. I only wish it were longer, as it's always hard to say so long until next time.

You always outdo yourself each and every time. The food, goodie bags and doorprizes are top-notch. I'm looking forward to Sturbridge in July.

Thanks again.

Cynthia

Cynthia with doorprize from Karen Capello

It was great to see you and all the stichers. I do so appreciate the hard work you put into the weekend with the good food, fun packs, and door prizes. I had lots of fun and giggles and can't wait to do it again!

Joanne

Joanne with special door prize from Stitcher's Hideaway.

I had a fabulous time at my second Alumni Weekend getaway! The food was wonderful (as always), the stash enhancement (both the goodie bag AND Chris's Collection) was unparalleled, but by far the best time was getting to know some very talented women, especially my neighbors across the table Amy, Gayle and Jamie.

Thank you, Sue, for putting together another great Stitcher's Hideaway retreat!

~ Ramona Haflin

This was my first alumni retreat, and I had an amazing time. I've returned home with new friends, great memories, and I'm so inspired by the talent of all of the wonderful other women who attended!

Sadly no real photos from me - I was too busy gabbing!

Best, Melissa

Melissa with a door prize from Rosewood Manor.

Well, once again Stitcher's HIdeaway Alumni Retreat does NOT disappoint! What a blast we had, although I think our table is going to be banned next year LOL! We were giggling so loud I think we were disrupting everyone else.The food was fantastic. The friendships we've made are amazing. I love seeing everyone from year to year and catching up. And Sue and her frogs aways put on a show. I hope there is a picture of the frog I FINALLY convinced Joanne to give me! I loved him and had to have him. Love the show and tell and seeing what everyone has stitched. I actually got three pieces finished there this year myself. Can't wait until the next one........Nancy*GloryBee

Dear Sue,
I have to be serious (at least for a moment) and take the time to tell you what a GREAT TIME the 2011 Mystic Alumni Retreat was. To share the weekend with friends old and new with project in hand is simply the best a stitcher can ask for. Pure fun all the way around. The only thing I would've changed is that Peggy wouldn't have gotten sick, but she rallied just the same!
Thank you for all you do for us, from gathering all the stash for our Fun Packs, to arranging for us to have such yummy food, to preparing the "Thank you" cards for our door prizes and much more. Oh, and thanks for putting up with the noisy shenanigans from the "Bad Girls" table...we all had such fun!!! Good thing the Ladies Room was right around the corner!! Yes, Depends in next year's Fun Packs might be a wise idea!!!
Honestly, the Alumni Retreat is one of winter's most anticipated events for me and I dare say others too. And speaking of winter, I am SO enjoying my new pink fleece...it's WICKED!!!!
Thank You Sew Much...
Karin

Karin with doorprize from Weeks Dye Works.

Sue,

I have not laughed so much or so hard in a very long time! And yet, I somehow got to also finish the stitching on 3 projects too!

I so needed this retreat with all of the wonderful and extremely talented women to learn from!
Thank you so much!

Love you!
Nancy

Nancy with doorprize from With My Needle.

Had a wonderful time!! As always the food was delicious!! Wish we had one more day, it went too fast!! All I can say is stitchin, shopping, chocolate and hooch = wonderful time!!!
~ Donna

I had a blast at the 2011 Alumni Retreat. Last year was the first time I had attended, and I thought then it couldn't get any better.
WRONG!!! We had a table full of characters this year, and though she almost didn't make it, Nancy Boyarsky was there: it just wouldn't have been as good without her. We reduced Karen to laugh-tears at least once. And Laura was her usual off-the-wall self. We were able to get Karin to laugh 'til she snorted. Next year I am bringing a bag of Depends, because we laugh so hard, and we'll all be a year older!
The food was wonderful and just kept coming. They really do a great job, that catering company.
I hope you can continue to make this annual event happen, because it is a luxury to be able to take time to work on already-started projects and finish them. Last year I finished four projects over that weekend, this year I finished one. But none of this would have been possible without the dedication and effort of the Frog Princess Herself.
Long may she croak!
Madeline E. Hollins

Madeline with door prize from Jeannette Douglas Designs.

Thanks Sue, good company, good food, good stitching, what else could you want!

~Jamie

Jaime salutes patriotic door prize from Elizabeth's Designs

I had another great time. It is so much fun to see all my stitching friends each year. I look forward to this time with great anticipation and the event never fails to be enjoyable. The food was delish as always. You are a great hostess. Thanks so much.

~ Mikki

Mikki with door prize from Jeannette Douglas Designs.
And here's a few more pictures!
Most of us arrived the night before the retreat, which gave us extra time for stitching and being bums*! I met up with some of the stitchers for dinner at the Steak Loft. Mmmmmm.
Me & Deb - long time buddies!
Miss Orts -- Trained Attack Frog. Hehehehe...
Note to self: Definitely bring Depends next year.
See you at the retreat soon!!