Mystic TWO
2010 Fun Report
Belinda and I had a little break between the two retreats, which gave us some time to goof off and enjoy the area. We went to Old Mystic Village where we sat outside in the sun and leisurely sipped delicious coffees and watched people -- and dogs -- go by. Belinda was missing her little dog! LOL!
We poked around in a few stores and then met up with my pal Deb and headed for Downtown Mystic and the "You've Got to be Beading" shop! Oh, that was fun! We walked around the little shops there, went to dinner, and then came back in time for an optional beading class taught by my friend Dorrie. This gave us a little introduction to some of the Mystic Two stitchers!
After a good night's sleep, Belinda and I were ready for Mystic Two to begin! Woo-Hoo! And what a fun bunch!
These stitchers were from CT, FL, MA, MD, ME, NY, PA, and RI -- and they were all first time attendees except for 2 stitchers! They wasted no time getting into class and pouring through all the goodies in their Fun Packs! And what awesome stash they received!! Some companies were new to us and it was great to see their designs, needlework accessories, and to learn about their services. We had door prizes from Brightneedle, Elizabeth's Designs, Jeannette Douglas Designs, Karen Capella (a friend of Stitcher's Hideaway), Kreinik, Morning Glory Needleworks, Rosewood Manor, Stitchy Kitty, The Gift of Stitching and Weeks Dye Works. And we all received items in our fun packs from Arelate Studio, Brightneedle, Calico Crossroads, Chris's Collection, Elizabeth's Designs, Glory Bee, Gumleaf Stitch Designs, Jeannette Douglas Designs, Lavender Wings, Morning Glory Needleworks, Needlework Finishing by Dawn Boisvert, Nordic Needle, Olde Colonial Designs, Stitchy Kitty, The Prairie Schooler, Trail Creek Farm, Victoria Sampler -- and Stitcher's Hideaway, of course!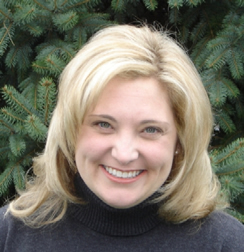 Our very talented instructor, Belinda Karls-Nace of Blue Ribbons Designs, brought along her trunk show! The stitched models were awesome!
Chris's Collection set up shop in a separate room and oh, boy, the goodies there! Our wallets got lighter and lighter! LOL!
We could hardly wait to get started with our first class with Belinda. Once we had all gathered, Christine from FL was identified as the person who had traveled the farthest, and so she was given some special gifts, lucky girl!
Belinda introduced her Pocketful of Peppermint sampler, which she had designed for our time together. We received all we would need to complete that sampler, but our class focus was on creating an ornament and learning a variety of finishing techniques.
| | |
| --- | --- |
| | |
| Pocketful of Peppermint | Class Ornament, bottom left |
You can see two variations of an ornament that we worked on in class in the first row above, along with some of the ornaments Belinda made using portions of her sampler design.
We jumped right into our project starting with outlining both sides of our ornament. Class flew by and suddenly it was time for lunch. Mmmmmm. And then shopping....wheeeee! And then we returned to class.

During the afternoon Belinda went over the specialty stitches in her ornament, which were also the stitches that we would be using to complete Pocketful of Peppermint. Her directions were excellent, and presented in a binder for us to treasure and refer to in the future. All of the finishing techniques that she would be sharing with us were also in the binder. Perfect!

Belinda encouraged us to make our ornaments our own by switching out colors, stitches, using beads or whatever! That made our ornament project extra fun.

Throughout our time in class we had many doorprizes!

Deb started flipping out when she received a doorprize from Morning Glory Needleworks and she didn't even know what it was yet! LOL!

She was even more excited when she saw it was "Victorian Silhouettes"!

The afternoon was so much fun. As we worked on our ornaments, we had time to chat and get to know each other a bit -- in between taking breaks to shop......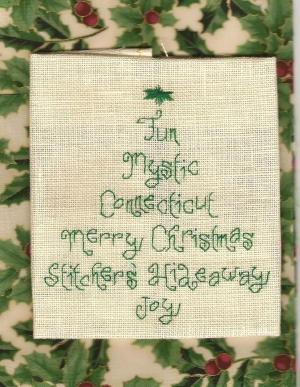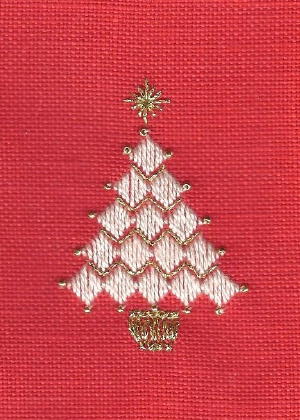 After a delicious dinner, we gathered back in the classroom for some more fun! This group also received two Christmas ornament kits. The first one (left) was designed by me as a little keepsake of our time together. Everyone received some fabric to back their finished ornament. The Christmas fabrics were assorted designs that came from a pack of quilt pieces!
The second design was created by Linda Rosser who used to run a needlework shop in Kissimmee, FL. I met Linda when I ran retreats in Kissimmee and she is just a delightful and talented person. She made this design for the attendees at one of the retreats and gave me permission to give it out to stitchers at my other retreats. I recently learned that she is now designing for Victoria Sampler! I am so excited and happy for her! I am looking forward to seeing her future designs!
Now those of you who have already read about the Mystic One retreat know what was to happen next! As I took my time going over instructions to complete these ornaments, stalling a bit while waiting for Santa arrived, I found myself a bit overcome by fumes from my white board markers and I got sillier and sillier, as did everyone else!!
Ah....the distraction stitch....(stall....stall...)
Video was taken during some bizarre moments! Remember, Melissa -- "What happens at Stitcher's Hideaway stays at Stitcher's Hideaway!!" LOL!!!
And then Santa snuck in the back door taking all the stitchers by surprise!! And he had his Naughty and Nice List!!
Melissa and Michelle with Santa.
Amazingly, even though he heard about some questionable behavior on the part of (ahem) some of our attendees the night before the retreat...he still had gifts for them! LOL!
...but Janice wasn't taking any chances and so she bribed Santa with a special gift!!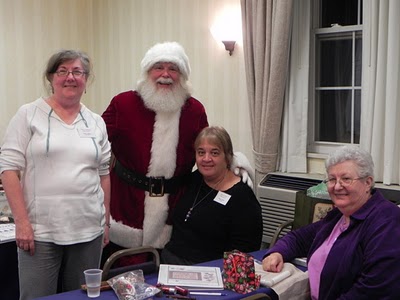 Santa with Chris, Janice and Virginia
We were able to ask Santa any questions we wanted, and we learned about his favorite
foods and drinks (!), elves, and much more!
Santa having a laugh with Kathy and her daughter Lisa Ann

Martha & Carol with Santa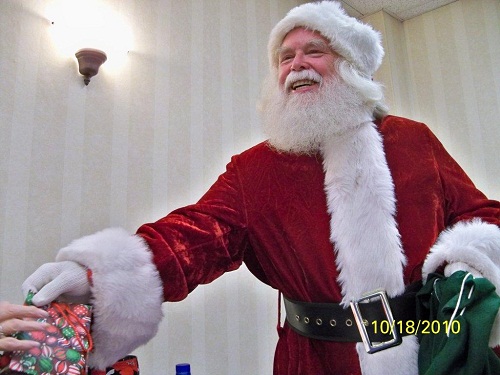 He had gifts for us all! What a great time we had! Ho-ho-ho!!!
The next morning we made our way back to class. It was time to learn how to finish those ornaments we worked on the day before!
Here's Gin with her ornament mostly stitched, and here's Belinda showing Michelle and Melissa how to best whip stitch their ornament pieces together.
Backstitching around both sides with 2 strands of floss really helped to give our ornaments a polished look.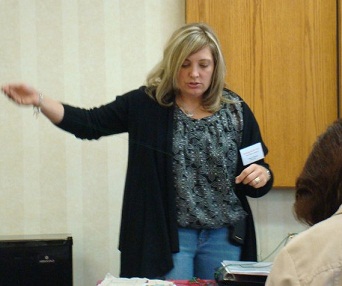 Belinda taught us how to make perfect braid and then showed us how to attach it to our ornament.


As we kept working, there were more doorprizes!!




The doorprizes were awesome! What generous donors!!

Michelle & Melissa -- almost done with their ornaments!

And here's some of our finished ornaments! We are SO cool!!!!


After an AMAZING dinner...we gathered back in the class room for our Christmas Ornament Exchange! Each participant drew a number and then picked out a gift-wrapped ornament in numerical order. What gorgeous ornaments!
| | | |
| --- | --- | --- |
| | | |
| Janice | Chris | Jill |
| | | |
| Carol | Lisa Ann | Martha |
| | | |
| Gin | | Belinda |
Look at them all! Aren't they gorgeous!
Next Belinda gave each of us an ornament she made on an amazing sewing machine! There were several different snowflake patterns.
Belinda gave me a beautifully wrapped gift! I was so taken with the wrapping that it took me a bit to open it up! Um...I don't know how to explain the following, except that I was really being egged on!!
Inside this cool wrapping was a Sewing Companion with matching scissors! Somehow Belinda also made this on her amazing sewing machine! I love it!!! Thanks again, Belinda!
We had a wonderful Show 'n Tell afterwards! We heard funny stories about what had been created, and other stories that really tug at our hearts. It was so much fun to see what everyone had made.
Carol showed us her felt work...

...and her beautiful pocketbooks!

In addition to needlework, Jill knits!

Melissa has done some Theresa Wentzler designs!

Michelle finished her beaded ornament from Dorrie's class

Virginia has made many beaded ornaments!

Melissa with a work of art!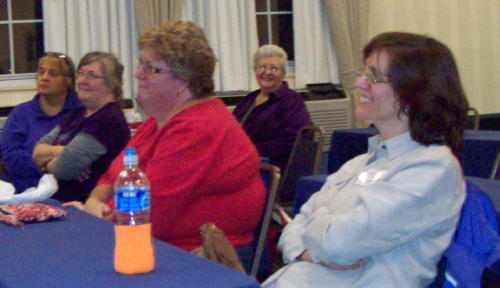 It was so much fun to get to know Belinda, to work on her design, to learn finishing techniques, and just to be with all the stitchers -- at both retreats! Thank you so much, Belinda! Thank you, Stitchers! Thank you donors!
See you at the next retreat!!
Sue
What did Santa tell Debbie!
Hi Sue! Just wanted to let you know what a great time I had at the retreat. My love of stitching was greatly renewed by all the enthusiasm around me! I finished my ornament on Thursday, as I was exhausted on Wednesday. I started on the sampler that Sunday, and am going to finish it this year! On Halloween I found a cute little tree for Halloween ornaments- a great incentive for me, as I bought two of Belinda's Halloween themed charts! The retreat was the best thing I did for myself this year, and I'm hoping to do it again next year! ~ Gin
Gin with a doorprize from Jeannette Douglas Designs!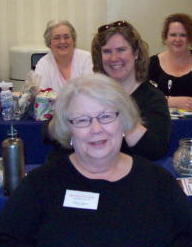 Mystic Two Stitcher's Hideaway was fantastic. I had a wonderful time, and it ended just too fast.
Belinda was a great teacher with a wonderful personality. I felt like I was sitting in my living room with a whole group of friends just stitching away... with maid service and our own chef to prepare our meals. We certainly were spoiled. Then it was like Christmas morning when Santa arrived with his 'Naughty and Nice List' - I sure am glad I was on the nice list!!! Oh, then he had presents for all of us. How cool was that.
Chris's Collection brought the good selection of items for us to purchase - I think we all helped the economy at her marketplace!! I found some really cute little items for Christmas and Birthday presents - I really want to keep them for myself - but then I might fall off Santa's "Nice List"...so gifts they will be.
I am looking forward to attending another Stitcher's Hideaway - this was my second - the first was with Ellen Chester in Sturbridge - also wonderful.
Best Regards, Martha
Thanks Sue, for all of your hard work putting together the event. It was a lot of fun! We truly enjoyed the experience. We look forward to coming to Ct again soon. ~ Chris
Chris with a doorprize from Rosewood Manor
Thanks for the pictures of me and Santa. He was a great Santa! Thank you for putting together the retreat, I had a great time. I'm hoping one of my stitching buddies from the group I stitch with will come with me next time. ~ Christine
Jill scores with a doorprize from Stitcher's Hideaway!
What a great time I had at my first, but I certainly hope not last, Stitcher's Hideaway. Met so many wonderful fellow stitchers and just felt so welcome among all the other "addicts". Belinda was so warm and down to earth and I, like you, have put together several ornaments using her cording and beading techniques. I would definitely recommend her as a teacher (or just a fun gal to pal around with) and you as the hostess with the mostest; especially for that wonderful visit from Santa, and what a great Santa he was too. Hi to all my Hideway stitching buds-loved meeting and talking to all of you. Best wishes for a Happy Thanksgiving, a very Merry Christmas and a blessed, happy New Year.
~ Love,Carol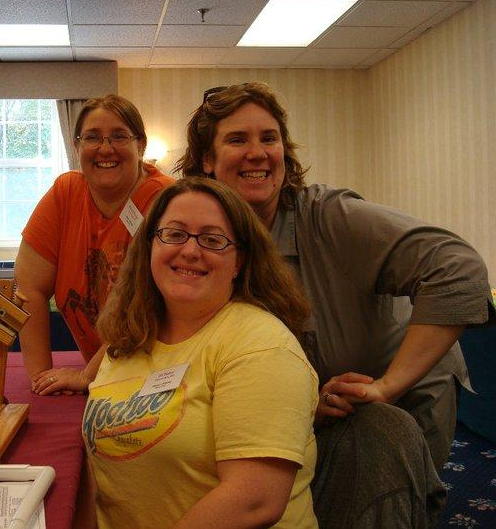 Kathy with a doorprize from The Gift of Stitching, and Lisa Anne with one from Stitchy Kitty. Santa & Mrs. C!!