Minnetonka 2006 Fun Report!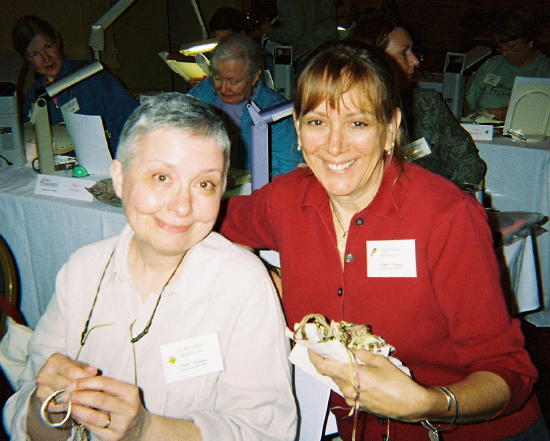 Oh, Wow! WHAT A FUN TIME WE HAD!!
The Minnetonka 2006 retreat started early for many of us as we gathered for a trip to Stitchville and then dinner at Famous Dave's Barbeque the night before the retreat began. Ann & Liz of Brightneedle joined us, thanks to Gary & Marianne.
You see, Ann & Liz had traveled from the east coast to Minnesota by train. Gary, husband of stitcher Marianne, drove his wife all the way from New York to attend the retreat. Gary has done this twice before for Marianne, earning him probably thousands of husband points! Not only that, but he and Marianne picked up Ann & Liz from the train station late at night and ushered them safely to their hotel. The next day they also took them to the Mall of America before meeting up with the rest of us for our trip to Stitchville. Thank you, Gary!

Liz & Ann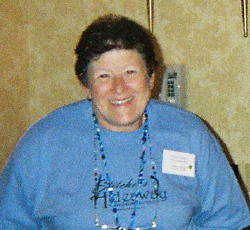 Vicki

Now I ask you. What would a Stitcher's Hideaway retreat be without me going through some kind of total humiliation?!? LOL!! Well, I didn't let you down, stitchers. Once again I had an, um, interesting experience! Local stitcher Vicki picked me up at the airport on Wednesday before the retreat and we had a great time goofing around and eating fine food. Then Vicki brought me over to the hotel so I could check in and get settled. Well, that didn't work very well! I discovered I didn't have a reservation for that night. Thud. I must have screwed up but I'm not sure how. We drove to another hotel right near by and discovered there was no room in that inn, either. Good grief. Here I am running the event and I'm homeless!!! Well, Vicki bailed me out and took me into her beautiful home for the evening. And we had such a great time! I met her son and he grilled dinner for us. I hung out in Vicki's totally awesome stitching room that would make just about any stitcher totally swoon. It's a large, beautiful wood-paneled room with lots of natural lighting and a gas fireplace. There were comfy seats and lighting for stitching, along with a table and chairs. Now whenever I think of Vicki I'm going to be thinking of her stitching to her heart's content in that room! Well, Vicki -- thanks once again for all your help!

The afternoon before the retreat quite a number of us met for a run to Stitchville, including Liz & Ann. I am always amazed at this shop. The local stitchers are SO fortunate! They have a huge selection of linens and fibers displayed in a very user-friendly way. A group of stitchers meets weekly there just to hang out and stitch -- and, of course, buy more stash! LOL!! I'm serious, folks. The Minnesota stitchers are incredibly blessed to have such an amazing needlework shop.

After our stash enhancement, we had met many of the retreat attendees over dinner at Famous Dave's Barbeque. Oh, man. I had ribs and they were delicious. Sitting at my table were Connie and Rita who had traveled from Texas to attend the retreat. We also had stitchers from Maine, Wisconsin, Minnesota, and New York attend.

The morning of the retreat Deb from Stitchville, Liz, Ann, and I set up the classroom and got everything ready for class and shopping to begin. The stitchers began gathering outside the door, very eager to enter. Suddenly it was time and in they poured! Yay!!

Everyone found their name tags with little frog stickers on them, and then picked a spot in the classroom, where a Fun Pack filled with goodies awaited them. There was hot coffee ready along with some yummy goodies, too.

We had a lot of great stash to look at! In the Fun Packs alone we had wonderful items from A Whimsical Element, Brittercup Designs, Calico Crossroads, Cherished Stitches, Elizabeth's Designs, Finger Work, Interweave Press, It's Fine-ally Finished, Jeannette Douglas Designs, Knotted Tree NeedleArt, Kreinik, Lavender Wings, Legacy Designs, monsterbubbles, Rosewood Manor, Stitchy Kitty, Sue Hillis Designs, The Prairie Schooler, Weeks Dye Works, With My Needle, and Zweigart!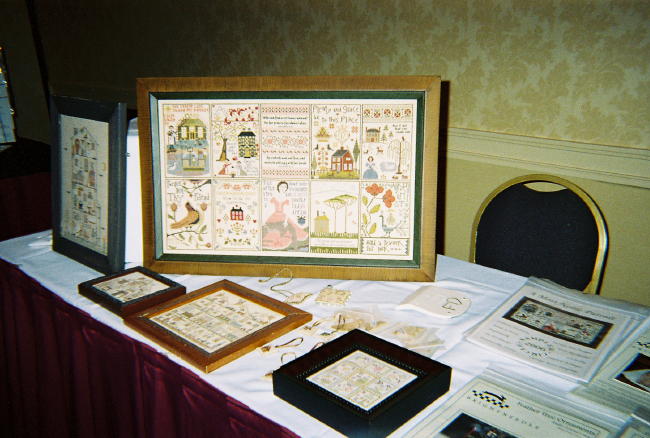 Ann & Liz brought a display of some of their designs with stitched models, private reserve charts and kits, hand made floss palettes and thread winders, beautiful handmade note cards, and a few kits from past classes that you can't buy in any needlework shop. I splurged on one myself! I wish you all could have seen the stitched models. They were so much fun to see. The amount of detail Ann & Liz put into each design is remarkable. They also displayed a stitched model of "A Most Noble Pursuit", which is a collaboration between 10 designers (see photo above) that was just recently released.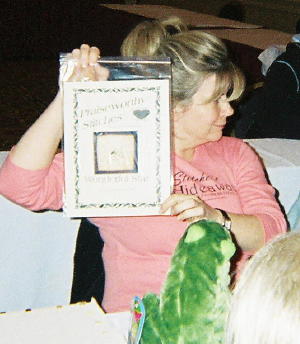 After a bit we settled down to begin our class time together. But first, the stitcher who traveled the farthest was revealed: Linda from Lewiston, Maine -- who happened to be my roomie! Linda received a little stuffed moose and a fantastic needlework kit. Then we learned that one stitcher had something unusual in her Fun Pack -- tissues covered with little frogs -- and she won a special gift. And then Kelly won a big stuffed frog that moves and sings "What a Wonderful World!" LOL!! He sang to us several times during the retreat. (Here's Kelly with a doorprize from Praiseworthy Stitches and the back of singing frog!)
Now I know many of you stitchers are shuddering at the thought of all the frogs!! It's been a long-standing joke that if the frog visits you it means you have made stitching mistakes and must now "rippit...rippit...rippit..." I've felt for some time that the poor frog has been getting a bad rap! Afterall, think of how much we all learn from our mistakes! So throughout the retreat stitchers were encouraged to Embrace their Inner Frog!
Ann & Liz gave us an introduction to the Dreamkeeper Etui, our retreat project. Some chose to stitch their Dreamkeeper as a sampler and some as an etui. A little square stitched with our initial was designed to hold our dream, which was written on acid-free paper to stitch right into the square. It's so cute!
| | |
| --- | --- |
| | |
| Front of the Dreamkeeper | Back of the Dreamkeeper |
| | |
| --- | --- |
| | |
| Dreamkeeper Accesories - Front | Dreamkeeper Accesories - Back |
Suddenly it was lunch time, and boy was it yummy! We had a birthday girl among us -- Stacy from MN -- and we sang Happy Birthday to her at lunch -- and again at dinner, and again when she won door prizes, and again, and again! LOL!! I guess we'll all remember Stacy's birthday!!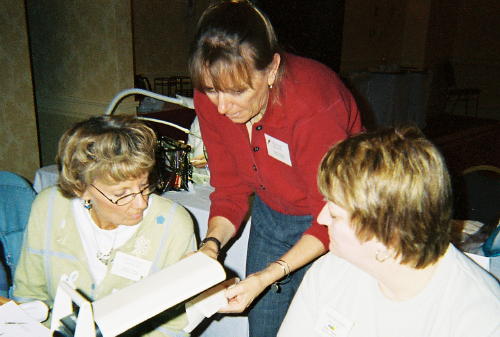 After lunch and some time to shop among the items displayed by Stitchville, Brightneedle, and Stitcher's Hideaway, we hopped right back into our class time. We learned two different methods for over-one stitching and covered some other stitches, too. As we began working on our projects, we were entertained by this designing duo. It is amazing how well they complement each other and how all of their designs are a collaboration between them. Ann lives in NY, and Liz lives in VA, yet they manage to create each design by fax and email, and the occasional times they have together. They met when they both lived in NY and formed an instant and lasting friendship. It turns out they were born just a day apart. They frequently finished each other's sentences and shared each other's thoughts. It really was fun to just listen to them!
Whenever we took breaks and before and after meals we shopped and shopped. It was so cool to see all the stitched models that Ann & Liz brought with them!
We certainly had some delicious meals at this hotel. Mmmm. We looked forward to each one.
Connie, Rita, and Deb from Stitchville
| | |
| --- | --- |
| | |
| Marianne with doorprize from The Victoria Sampler | Vicki with doorprize from Brittercup Designs |
Did I mention doorprizes? There were so many wonderful items from very generous designers: Brittercup Designs, Cherished Stitches, Earth Threads, Elizabeth's Designs, Finger Work, Glory Bee, Interweave Press, Jeannette Douglas Designs, Knotted Tree NeedleArt, Kreinik, monsterbubbles, Praiseworthy Stitches, Rosewood Manor, Stitchy Kitty, The Victoria Sampler, With My Needle, and, of course, Stitcher's Hideaway. Deb from Stitchville and Liz & Ann also gave us many gifties. Actually, we were spoiled rotten! LOL!
After another delicious meal and even more shopping, everyone gathered in the classroom to see the surprise I had for them. Heh-heh-heh. Here it is!!
The Someday Shop / JAR Over-dyed Floss donated floss for "Embrace Your Inner Frog". The names of the flosses were a riot. The green in the frog is stitched in Fiendish Frog Dark and Fiendish Frog Light, and the lips and hearts are stitched in Lovely Lips Medium! Seriously! I'm not kidding! LOL!! The purple is Laughing Lilacs Dark and the the lightest green is Crunchy Celery Light. Now how could anyone ever fear such a gorgeous frog? LOL!!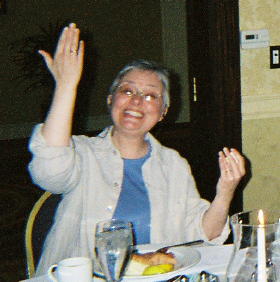 Now here's a picture of Liz. I have no explanation for this. What is she doing?!? Conducting an orchestra? Demonstrating a new finishing technique?!? Waving hi to herself?!? You can make up your own caption!!
| | |
| --- | --- |
| | |
| Kerry & Kathy | Linda the Maine-iac |
| | |
| --- | --- |
| | |
| Kathy with Victoria Sampler Doorprize | Sisters-in-Law and Stitching Buddies - LuAnne & Janet |