Mystic 2005 Fun Report!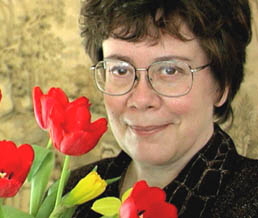 MYSTIC ONE. What an exciting time for those of us who gathered for the Mystic 2005 Retreats! Thea Dueck of The Victoria Sampler traveled all the way from Victoria, British Columbia, to be our instructor. Thea's designs have been long admired by so many stitchers and so we were all especially excited to have her come to Connecticut to teach for the very first time. Two retreats had to be held to accommodate everyone -- called Mystic One and Mystic Two.
Thea and I had a free day before the retreat to go out and play. I was so pleased to be able to show Thea some of what I love about my home and New England in general. Although it was early November, we had a very late fall and so she was able to enjoy some of our famous foliage. First on my list of places to go was my little cottage at a seasonal campground in Haddam, CT. The cottages there have a bit of a Victorian look to them with lots of porches and gingerbreading. It is located on a high bank overlooking a very scenic spot on the Connecticut River. We walked about the grounds and I was able to share with her some of the history behind the campground. We drove to the little Town of Chester and had a delicious lunch in a funky little restaurant, then drove to the shore to look at the ocean and little beach houses. Thea loved the little houses!
The next morning the Mystic One stitchers began congregating in the hotel lobby chatting excitedly as they waited for us to open the door. Chris and Pam from Chris's Collection had set up shop for us --including a Victoria Sampler Trunk Show! Snacks and Fun Packs filled with goodies awaited each stitcher. Suddenly it was time, the door opened, and in they all poured! What an excited group! And boy, they were in the mood to shop! Everyone was thrilled to see Thea's Trunk Show. There's nothing quite like seeing stitched models.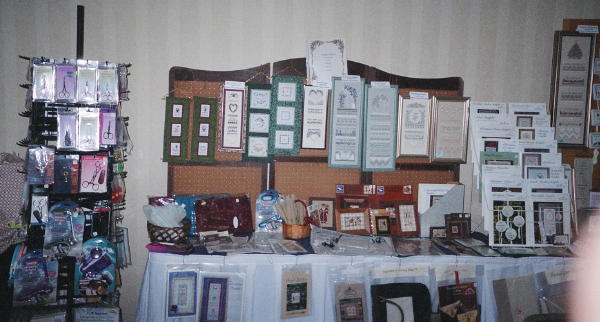 The Fun Packs were great! Besides items from Stitcher's Hideaway, there were freebies from A Whimsical Element, Chris's Collection, Elizabeth's Designs, Finger Work, Interweave Press, It's Fine-ally Finished, Just Cross Stitch, Just Nan, Kreinik, Lavender Wings, Olde Colonial Designs, Praiseworthy Stitches, Rosewood Manor, Sue Hillis Designs, The Prairie Schooler, Weeks Dye Works, With My Needle, and Zweigart! During the retreat we also received a great freebie from The Victoria Sampler!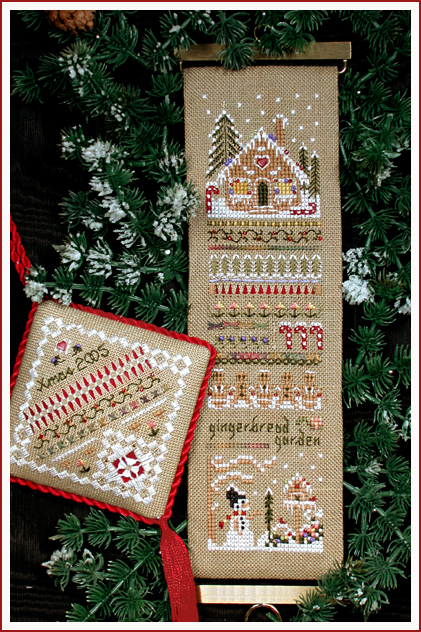 After a bit we settled into our classroom, with our Gingerbread Garden Sampler kit before us. I LOVE opening up a brand new kit!! The linen was so perfect for this gingerbread design and the beautiful silk flosses were so soft. Oh, there's nothing quite like starting a brand new project!!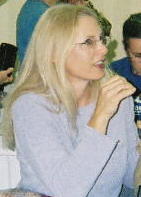 The stitchers at this first Mystic retreat were from CA, CT, MA, MI, NH, NY and NB Canada. Sabrina from California was the stitcher that traveled the farthest and she received special goodies. Sabrina arranged an extended visit so that she could take in some of the sights in Mystic. She was such a fun addition to the group!
One "lucky" stitcher was sitting in a seat with a coin taped to the underside of her spot on the table. She received a crazy frog statue in Christmas decor! LOL!! Several door prizes were given out and then we settled down for our first class.
After telling us a bit about the design in general, Thea soon had us started on a portion of the ornament. We worked on kloster blocks in preparation of doing hardanger. It seemed that class had barely begun when it was time for lunch! Mystic Market Caterers arrived with incredible sandwiches and butternut bisque. Oh, man, it was heavenly! I tried begging for the bisque recipe, without success. Funny. The chef just laughed at me! LOL!!
After some more drooling over the trunk show, we headed back for class and periodic door prize drawings. Donors really outdid themselves. There were squeals of delight as the prizes were revealed. A Whimsical Element, Brittercup Designs, Calico Crossroads, Cherished Stitches, Chris's Collection, Earth Threads, Finger Work, Glory Bee, Interweave Press, Jeannette Douglas Designs, Knotted Tree NeedleArt, Kreinik, Lavender Wings, M Designs, monsterbubbles, Nordic Needle, Praiseworthy Stitches, Rosewood Manor, Stitchy Kitty, The Victoria Sampler, With My Needle, and Stitcher's Hideaway. The donors were so very generous!
| | |
| --- | --- |
| | |
| Door Prize from Knotted Tree | Door Prize from Kreinik |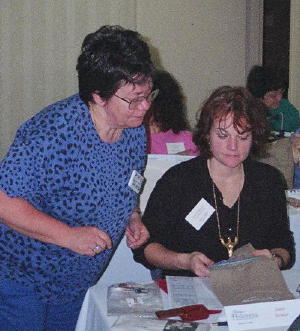 Thea had a wonderful way of making us all feel like stars in her class!! She was so encouraging! No matter what our experience level, she was right there for us, patiently guiding us through each different stitch and technique, and answering all our questions. We learned helpful hints to making kloster blocks and Algerian Eyelets, among other things that afternoon. Our assignment that night was to finish all our kloster blocks so that we could learn some hardanger and hemstitching the next day.
In response to our many questions, Thea told us a lot about her company, The Victoria Sampler, and her wonderful staff. We wanted to know how she came up with her design ideas, how she actually did her designing and stitching, about her family and.... oh, my, we just wanted to know everything!! LOL!!
Peppered throughout our afternoon class and break time were more and more door prizes. We also spent some time drooling over Thea's Trunk Show and all the other great stash from Chris's Collection.
Next was dinner time, once again catered by the awesome Mystic Market Caterers. YUMMMMMMMMM!!! It was so nice to just go across the hall for our meals and to sit, relax and chat and get to know each other.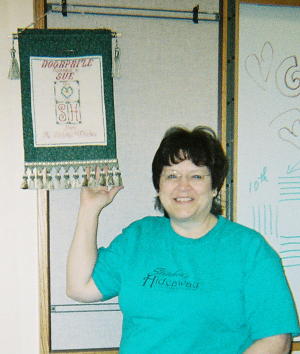 I must give out hundreds of door prizes every year. I really have no idea how many. At this retreat I was given a door prize!!! Omigosh, I was so thrilled! There is a group of stitchers from New York that meet just about weekly to stitch. They call themselves The Stitchin' Witches. Some of them have attended every Mystic retreat (and others, too) since 2002. They made me a door prize! I wish I had a better shot of it to show you. It says "Doorprize Award to Sue -- Mystic 2005, SH (as in Stitcher's Hideaway), From The Stitchin' Witches! It has a key above the door on it and it is finished so beautifully! I was so choked up at their thoughtfulness that I actually couldn't speak for a couple minutes -- and you all know that's like a miracle!!! Thank you again, Stitchin' Witches!!
That evening I had a surprise for everyone. They had been teased about it for some time before the retreat and finally they could find out what it was! Those of you who have been to a few retreats know that you never know what you're going to get! It's pretty much whatever happens to spill out of me at that moment in time. This time it was two designs. The first one, Christmas Joy, shown below was stitched in beautiful threads donated by Weeks Dye Works and filament thread by Kreinik. I finished mine as a balsam-filled pillow, which caused me some concern! You see, I didn't do the final finishing until the night before the retreat. I packed it with balsam and then whip-stitched it. The next morning when I was getting ready to go to the retreat I realized I had some leftover balsam laying on top of some paper. I swear to you it looked like pot (don't EVEN ask me how I know what pot looks like -- ha-ha!) and I thought I'd better not leave that out for the cleaning staff to discover or I'd end up having a police visit in the middle of the retreat!!!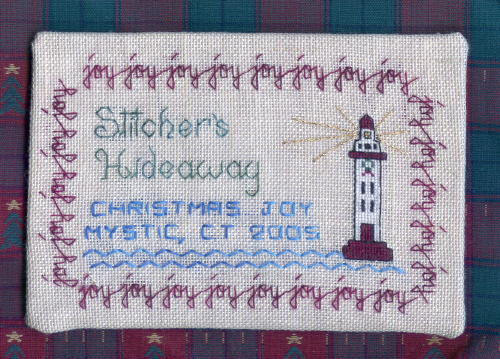 Well, when I designed that little number I got a double inspiration, so I made another surprise for everyone! I named this one Tidings. The metallic thread for these kits donated once again by Kreink and the Christmasey red and green threads were donated by JAR Designs -- a new line of hand-dyed floss. I happen to know the two ladies who do this hand-dying. They are Jan and Pam from The Someday Shop, who have set up stash enhancement at all the Kissimmee retreats. At Kissimmee 2005 I could see the results of all their efforts -- a full line of gorgeous threads, and dye that is probably stuck on their hands until forever!!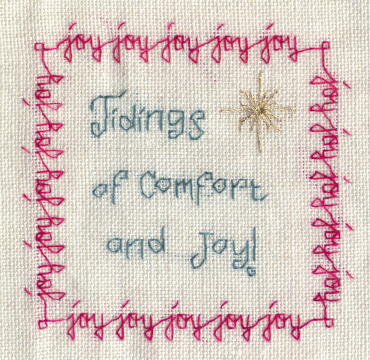 The gold Kreinik #4 Braid #002 that was donated for these kits was also the same thread used by Thea in the Gingerbread Garden. I heard several stitchers remark about how easy it was to use this metallic braid, and I agreed. I think several of us have had experiences in the past with uncooperative metallic thread, but this was really a dream to use and so pretty, too!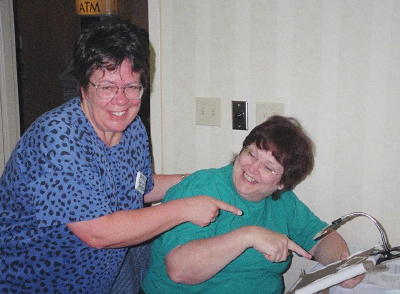 This is Thea and I, by the way. Don't ask me what on earth we were doing because neither of us knows. It might have been the effects of the, um, balsam. We definitely inhaled. Or maybe this is just evidence of a serious lack of sleep!!
Click Here for More -- If you Dare!