Stitcher's Hideaway
Sturbridge 2010
Fun Report!
Those lucky folks who attended this retreat will long remember it not only for the fantastic project and instructor, but for our personal inside tour of the archives at Old Sturbridge Village! Amazing!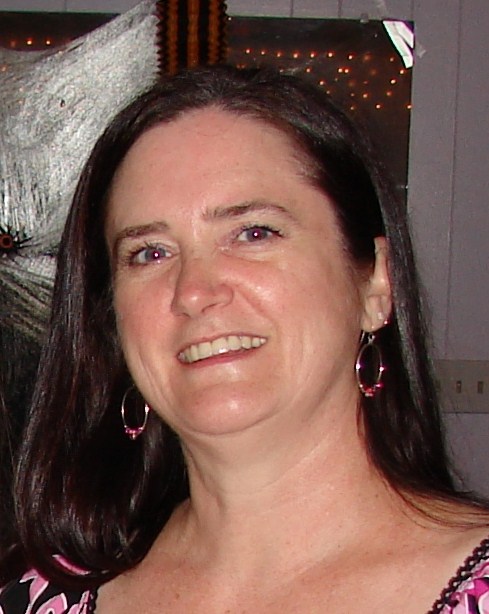 Dawn Fisher of Morning Glory Needleworks was our instructor. Dawn designed her "Lady Washington" sampler around the life of Martha Washington or, as Martha was known to those who loved and respected her, Lady Washington. As Dawn taught us the various stitches used in the sampler, she provided interesting facts about Martha's life and made her come "alive" for us. We learned that Martha was a fascinating person and an avid stitcher! We heard about her upbringing, first marriage, the births and deaths of her children, life with George especially during the Revolutionary War, her life as the original "First Lady", and after the death of her beloved husband, George.
Each band on the sampler represents a highlight from the life of Martha Dandridge Custis Washington. The sampler begins with the Martha Washington Geranium and concludes with Martha and George in their wedding finery. You can see a band with the colors taken from Martha's wedding dress, the shell stitch band taken from the chair seat she stitched (which is at Mt. Vernon), her "blew" china pattern, even the black canvas lace representing the death of George. Speaking of her china pattern, there was a piece of it on display in the historic Publick House where our classes were held!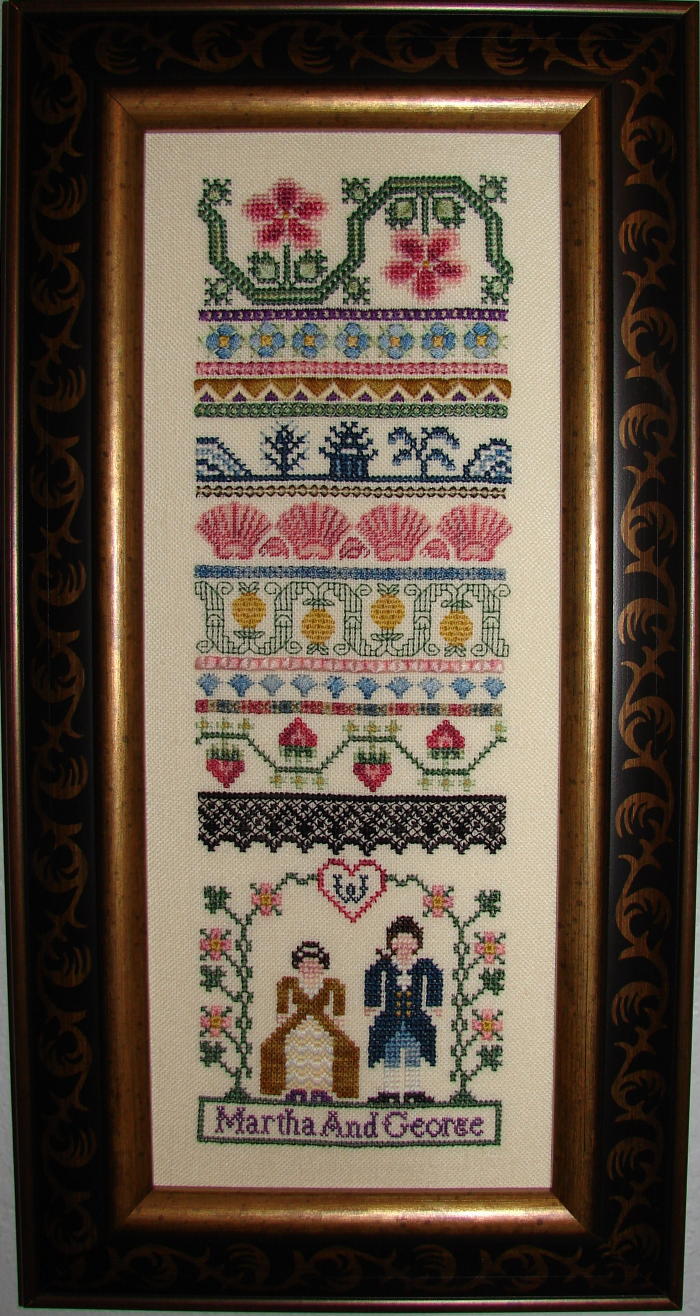 Dawn's written and oral instructions were absolutely outstanding. She covered two versions of Foliage Stitch, Cross with Bar, Diagonal Cross, Half Rhodes with Cross, Modified Tudor Rose, Rapid Stitch, Florentine, Captive Rice, Trellis Cross, Continental, Triple Cross, Blackwork, Queen, Double Star, Smyrna over 2, Rice over 2, Canvas Lace and a new stitch Dawn calls Martha's Dance Fan. There were new stitches even for those of us who were more seasoned.

The sampler was worked on 30 count Angel Hair over-dyed linen using over-dyed threads, both from Weeks Dye Works.

Dawn's teaching experience includes EGA, needlework shops, and sampler guilds. She also has attended many seminars on samplers and their history, plus classes in textile conservation. We learned a lot from her!

This group of stitchers were from NY, NJ, ME, CT and OR. Anne from Oregon was the stitcher who traveled the farthest and she was spoiled with some extra goodies!

Chris's Collection set up shop for us -- and boy, did we ever shop!

We had wonderful goodies in our Fun Packs! They were donated by Brightneedle, Calico Crossroads, Cherished Stitches, Chris's Collection, Elizabeth's Designs, Glory Bee, TheGift of Stitching, Jeannette Douglas Designs, Kreinik, Finishing by Dawn Boisvert, Nordic Needle, Trail Creek Farm, The Prairie Schooler, Victoria Sampler, and Weeks Dye Works. And we had loads of doorprizes from Brightneedle, Elizabeth's Designs, Karen Capello (a friend of Stitcher's Hideaway), The Gift of Stitching, Jeannette Douglas Designs, Kreinik, Finishing by Dawn Boisvert and With My Needle.

We had a great time going through our Fun Packs!

Our first day whizzed by with shopping, class time, and yummy meals from the Publick House.
Gail and Linda

Marianne with door prize from Karen Capello,
a friend and alum of Stitcher's Hideaway
We had just finished savoring our dinner and were relaxing over coffee when we had a surprise visit from Grandma!! Grandma stopped by to share her remembrances of the Revolution! Grandma (Lois Kelley) is one of the characters at Old Sturbridge Village. She captivated us with tales of her family's adventures during the Revolution. She was adorable!!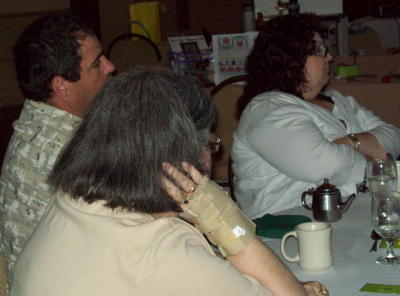 Granny and Sue

After our visit with Grandma, we went back to our stitching area for a surprise from me! I created this little design for everyone.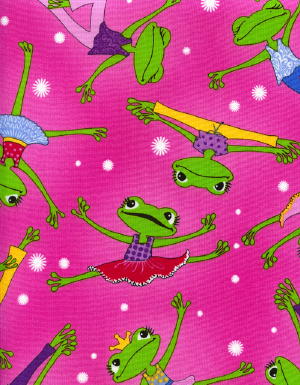 Sometimes I spot something that looks interesting and buy it thinking maybe someday I'll use it in a design. Sometimes whatever I've spotted inspires a whole design!
About 3 years ago I purchased a whole mess of children's bracelets and necklaces because of these cool flower beads that were on them, and probably 5 years ago I picked up a big yellow linen tablecloth at an antique shop -- and used them both for this design all these years later!
Then I found some fun fabric on-line to use for the pillow backing, shown left. I have drawers of cool stuff I've found over the years -- just waiting for the right design to hatch!
The next morning we returned to class, quite eager to get going on our project. We still had a lot of ground to cover -- and Dawn was a slave driver! LOL!! Somehow she managed to get us all through it! Some of us stitched right on our sampler fabric, and others brought along some scrap linen to learn the stitches before actually working on the samplers. It was all good -- and we learned a lot.
| | |
| --- | --- |
| | |
| Anne learning a specialty stitch | Dawn in patriotic instructor mode |
That afternoon we excitedly left for our trip to Old Sturbridge Village where we met with Jean Contino, Coordinator of Households, and Rebecca Beall, Collections Manager, for an amazing guided tour! Our first stop was an exhibit open to the public entitled "The Labour of My Youthful Hands: Young Ladies' Needlework and Ornamental Arts."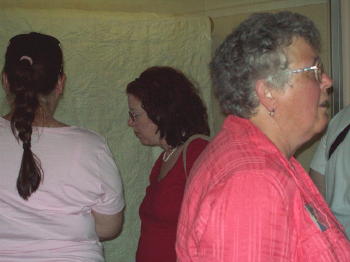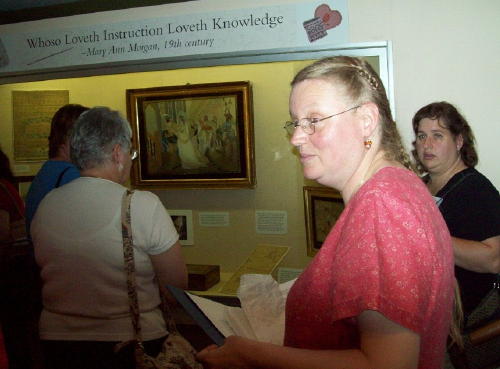 We were in absolute awe!
OSV has some 60,000 antiques in their storeroom -- many items that the public has never seen. We entered a secure area where we left our purses and they took our fingerprints and photos (okay, I'm only joking about the fingerprints and photos). And then we entered the Inner Sanctum!! Oh, my! In the first room was a display of pieces created by young ladies in the late 1700s and early 1800s in New England, both at home and with instruction at academies. So much to see!!
| | |
| --- | --- |
| | |
| Made with a bazillion Queen Stitches, this piece made Anne, who had just learned to do them in class, gasp in horror! LOL! | Jean Cantino from OSV showing us an early sampler. |
Note the dates!!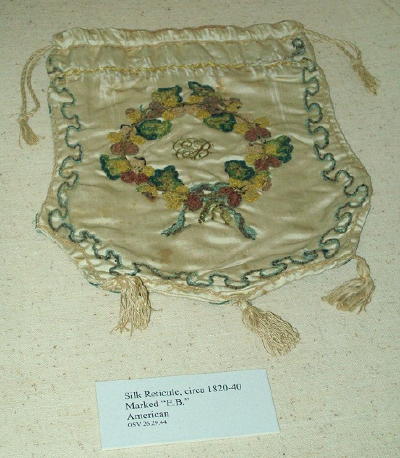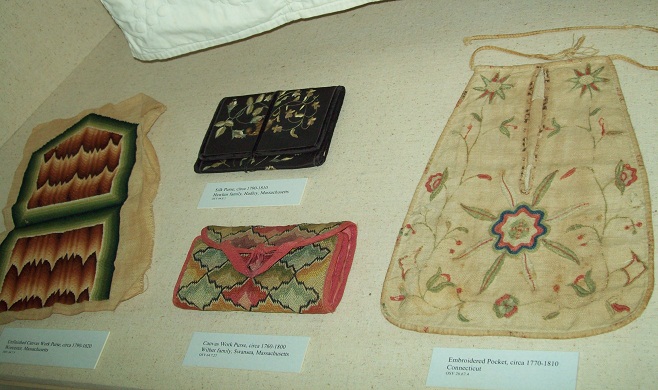 AND THEN....WE WERE TAKEN INTO THE INNER SANCTUM!!!!!!
AND OH, MY!!! THE NEEDLEWORK!!!!!!!!!!!!!!!
We were allowed to take photos, too!
CLICK HERE TO SEE SOME OF OUR PHOTOS!
What an amazing time we had!! WOW, WOW, WOW!!! We felt so incredibly blessed to be able to see these treasures!!