Sturbridge 2009 Fun Report
Wow!! What a big group at the Sturbridge retreat! There were 48 of us! And we couldn't wait for the fun begin!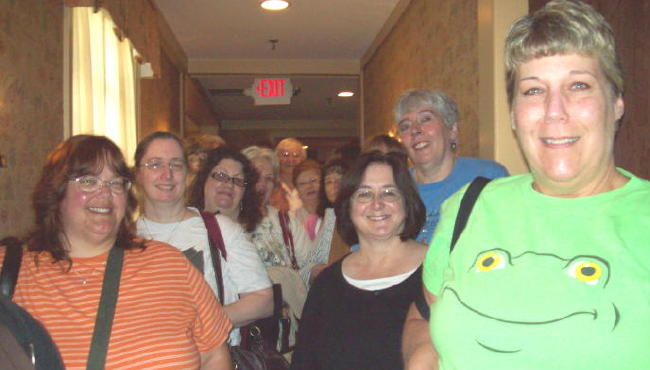 Everything was in place for them...thanks to help from Deb and Megan! Here's the calm before the storm....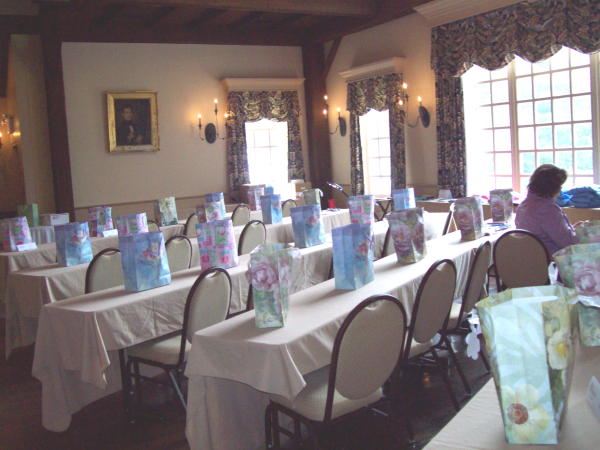 In they poured! What excitement! They each found a seat and then some went right into their Fun Packs to see all the goodies, while others went immediately to shopping because, well, one never knows when there just might be a stash famine!! Goodies for our Fun Packs were donated by Blue Ribbon Designs, Brightneedle, Calico Crossroads, Chris's Collections, Elizabeth's Designs, The Gift of Stitching, Homespun Elegance, monsterbubbles, Morning Glory Needleworks, Nordic Needle, Olde Colonial Designs, Rosewood Manor, The Prairie Schooler, The Sweetheart Tree, Trail Creek Farms, Weeks Dye Works, and Victoria Sampler!
There were greetings and hugs as friends reconnected, and lots of conversation as we got to know others attending for the first time.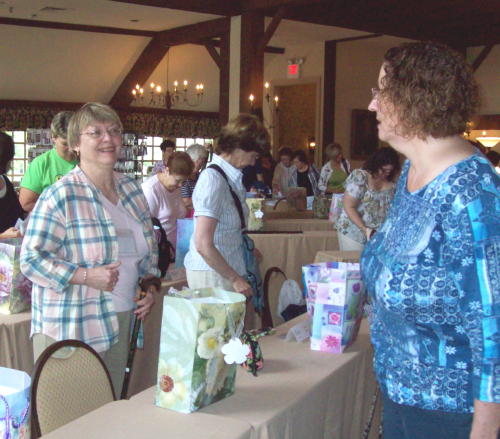 This group of stitchers came from CA, CT, CO, GA, MA, MD, ME, MN, NH, NJ, NY, OH, PA, RI, VT, WV, Canada, and England! Anne Douglas from England was the stitcher that traveled the farthest, and she received some special gifts. Here's Anne below (left) with her daughter-in-law Robbin.
The retreat was held at the Publick House in Sturbridge, MA, just a couple miles from Old Sturbridge Village, a village created to demonstrate what village life was like in the 1830's.
Thea Dueck of The Victoria Sampler was our fantastic instructor, and she designed the Sturbridge Kitchen Garden Sampler for this retreat. This delightful garden sampler is a depiction of a 19th Century kitchen garden in Sturbridge Village. The red house is the old Freeman Farmhouse at Old Sturbridge Village and the smaller one is the Fenno House, also found in the village. The garden has beds of carrots, radishes, cabbages, radishes, onions, squash, potatoes, cauliflower, peas, parsnips and lettuce, along with a sprinkling of herbs and flowers. There are also trees indicating a big orchard of pear, peach, plum and cherry trees. Notice that one of the household servants has discovered a frog among the radishes! LOL!! There are also some chickens, bees, and a beehive. WOW -- there was a lot in that tiny sampler!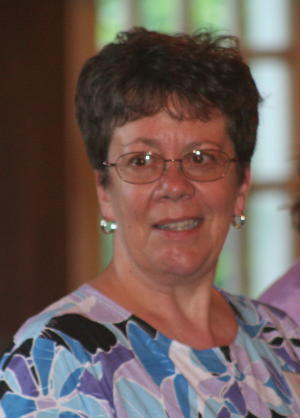 What a perfect sampler for our retreat! What a great keepsake of our time in Sturbridge!
Thea sent us some pre-work to do to get ready for our class. We worked the kloster blocks in the design and stitched in some guidelines so that in class we could bounce around to different areas of the sampler as we learned the various techniques involved. The specialty stitches were Satin, Backstitches, French Knots, Queen Stitches, Leviathan Stitches, Vault Stitches, Lazy Daisies, Cross Stitch over one fabric thread, Kloster Blocks, Dove's Eyes and Partial Greek Crosses for the Hardanger band.
We were so excited to get our kits and to get stitching!! Thea was incredibly patient and kind with us all, making us each feel like a teacher's pet! Her instructions were awesome. She is Queen Thea!!
We weren't in class for very long when it was time for our "First Feeding" -- MMMMmmmmm. The Publick House food is yummy! We ate in a room that was connected to our very large classroom.
After a delicious lunch, we had time for more shopping before class resumed. We were really good at that!! LOL!!
Chris & Pam from Chris's Collection and Tammy from Olde Colonial Designs set up shop for us. There was an excellent assortment of stash to peruse.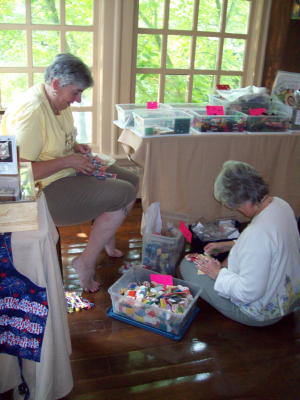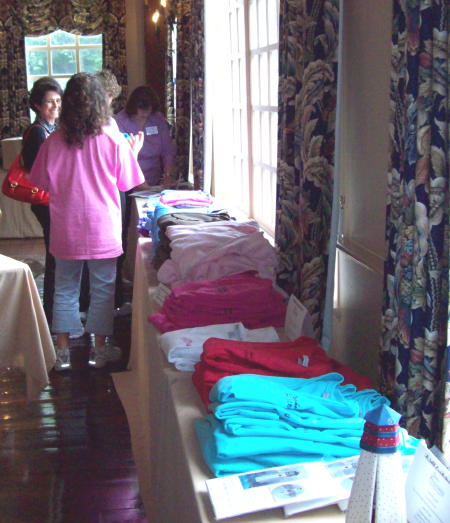 Our classroom was really cool. It was huge and there were wonderful old chandliers and antiques tucked away here and there.
Thea was kept quite busy going from stitcher to stitcher to help us individually or to just chat. Other times she had groups of stitchers come up front to give demos of some of the hardanger stitches.
| | | |
| --- | --- | --- |
| | | |
| Betty in Stitching Heaven | | Deby with doorprize from Stitcher's Hideaway |
Throughout the retreat there were doorprizes, doorprizes, and doorprizes! They were donated by Blue Ribbon Designs, Brightneedle, Calico Crossroads, Chris's Collections, Earth Threads, Elizabeth's Designs, The Gift of Stitching, Jeannette Douglas Designs, Kreinik, monsterbubbles, Morning Glory Needleworks, Nordic Needle, Olde Colonial Designs, Rosewood Manor, The Prairie Schooler, The Sweetheart Tree, Trail Creek Farms, Weeks Dye Works, Wichelt and With My Needle!
Doris with doorprize from Brightneedle

Mary Ellen with doorprize from Elizabeth's Designs

Jen with doorprize from
The Gift of Stitching
Allyson with doorprize from
With My Needle

Valerie with doorprize from
Elizabeth's Designs

Kathy with pillow from
Trail Creek Designs
"Teacher...Teacher...I have a question......"
"Class, Queen Stitches are easy! Why, I once made one this big...."
Look at the wonderful chandeliers!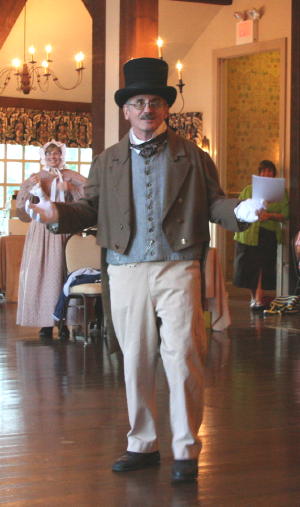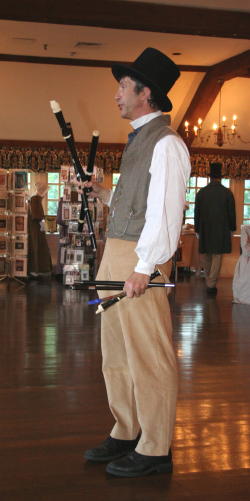 Our day just flew by -- wonderful food, fantastic class, shopping, and then...it was time for a wonderful evening together with some of the OSV Dancers!
The OSV Dancers perform at many of the Olde Sturbridge Village special evenings, and perform on the Village Common monthly. The dancers interpret the ways of dance in rural Massachusetts during the late 18th century and early 19th century.
Art Martin began the event by reading a stern warning about balls, written by Oliver Hart (March 22, 1778): "A ball is the devil's procession, and whosoever entereth there, entereth into his procession. The devil is the leader, the middle, and the end of the dance. So many paces as a man maketh in a ball, so many leaps he maketh towards hell. They sin in dancing sundry ways, first, in walking, for all their paces are numbered; they sin in touching, in their ornaments, in hearing and seeing, in speaking, in singing, in lies and vanities. A ball is nothing but misery, sin and vanity."
Of course, that made us all the more eager for the dancing to begin! LOL!!
The dancers were accompanied by Al Petty, who played the Record and the Penny Whistle. They did 1830's Country Dancing or "Contra Dancing."
We watched them demonstrate several dances: LaBelle Catherine, Money in Both Pockets, and Knole Park. They made it look quite effortless, orderly, and elegant. They were a beautiful swirl of color and movement.
Ready, set....
...Go!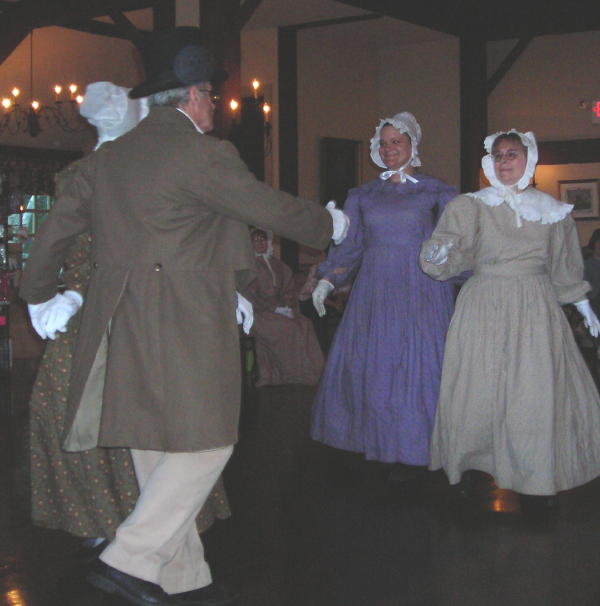 Looks easy, don't you think?
Then some of us lined up to give it a try -- after all, we had been carefully observing. How difficult could it possibly be?
We were given step-by-step instructions to do the Northdown Waltz and Galopede.
Let the chaos begin!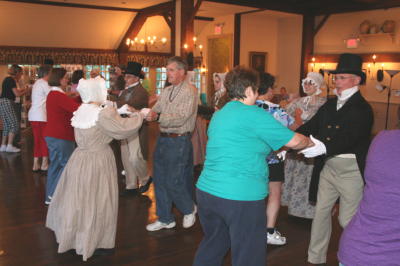 | | |
| --- | --- |
| | |
| Doris' husband John joined us | John and Allyson were carefully watching the footwork |
I usually faced my partners......

Thea preferred dancing
cheek to cheek!
Don't you just love the contrast in clothing?!? LOL!!!!
| | | |
| --- | --- | --- |
| | | |
| Some of us watched.... | | And some of us danced.... |
I thought I was doing pretty good until I was told that I was "exuberant" -- not elegant! LOL!!
We all had a ball at the ball!
Click here to read about Day Two!