Sturbridge 2008 Fun Report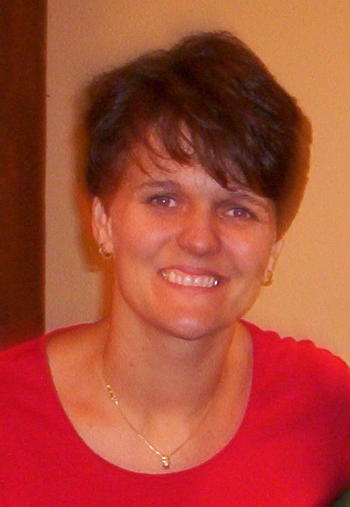 Any stitcher can appreciate how excited we were to finally arrive at the Publick House for the retreat -- to walk into the classroom to see Chris's Collection set up for our stash enhancement, to see our Fun Packs, to meet Jackie and see our project kits! It's so much fun to see old friends and meet new stitching buddies! Two glorious days together in our own little world of stitching -- what bliss!
Our time together was intimate and cozy; filled with learning, sharing, laughing, stitching, shopping, fine dining and pampering. We came from CA, CT, TX, NH, NY, NJ, MA, ME, PA and VT. We had a very enjoyable and memorable weekend together. It was clear that several new friendships were begun.
Jackie du Plessis of It's Fine-ally Finished was our instructor (pictured at left). She is such a sweetie! We enjoyed her so much! In addition to our retreat project, she brought along many of her design models for us to drool over -- with some kits we could also purchase. Her designs are exquisite! We were fascinated with each creation and all its many details. We wondered how on earth she figures out how to turn her ideas into such beautiful finished objects. Jackie shared that she grew up in South Africa, and there learned to sew all her own clothing. That background certainly has given her the ability to work out a design in her head when most of us would be unable to begin imagining the construction! We are so blessed that she is able to share her creations with us!
The gorgeous project she taught at our retreat was "Buttons a Bounty" -- a combination nécessaire and silk button box. The box slides in and out of the acorn stitched Nécessaire. (In my case, my button box will also be holding a cool acorn thimble holder given to me by the Brightneedle ladies!)
The first thing we did in class was to construct the silk box. I think we were all wondering if it was going to be difficult, but it really wasn't! It was actually surprising simple. We had some cutting and ironing prep work to do, and then were able to whip stitch the box together.
To master the stitches used in the design, which included the Queen, Brick, and Hedebo Ribbon stitches, we worked on a cute little scissors fob that Jackie designed for us. That was a nice little extra piece!
As is typical of Jackie's designs, Buttons a Bounty called for only the best of materials, including hand dyed silk fibers and ribbons in rich New England fall colors, carved mother of pearl buttons, skirtex, iron-on interfacing, heat resistant MYLAR, needle page linens - hand dyed 48ct Dower linen, buttons to start our collection, waxer, stitching instructions with diagrams and graphs, and detailed finishing instructions with pictures. Her attention to detail is a stitcher's delight. Inside the nécessaire, the silk taffeta interior shows a tiny fabric acorn needle page, storage section of needle work tools as well as a pocket to store scissors. We had the option of purchasing various scrimshaw pieces. They were adorable!
Sturbridge Stitchers -- You'll enjoy seeing these additional project pictures, with great close ups, to help guide you as you work on your project.
Jackie helping Mary as Ivy looks on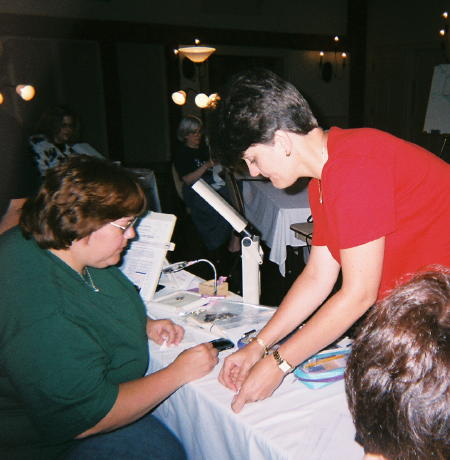 Denise with Jackie
The pace of our retreat was very relaxing, with plenty of time for us to work, ask questions, get help, and visit with one another. During our first day, especially, we were probably out of our seats as much as we were in them! We were working on the ironing and cutting prep work in different spots around the classroom, helping each other along, and chatting away happily.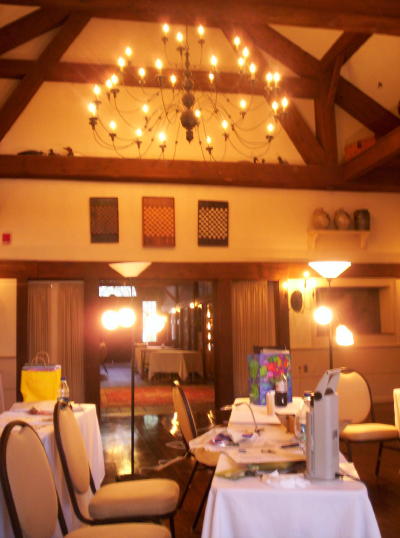 Our classroom was incredible. The high ceiling and antiques throughout the room created a great atmosphere.
We had our meals in an adjoining room, and they were wonderful! Our dinners were 5 course events and we felt quite pampered as we worked our way through each course and enjoyed each other's company.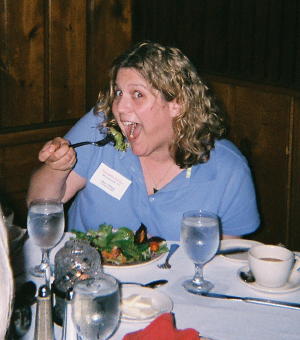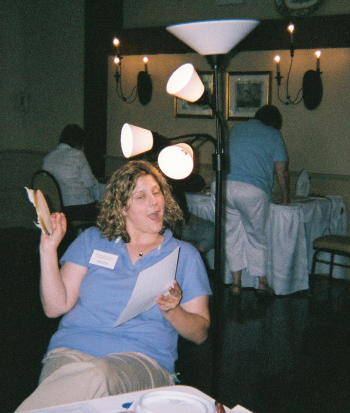 LOL!! Isn't Elizabeth just so photogenic?!? Ha! Several people sent me photos of the retreat and she just keeps popping up in delightful poses!
What's really cool is that Elizabeth attended the retreat with her Mom, Sharon, and her grandmother, Ruth! Here's the three of them below. Ruth, an addicted knitter, had just recieved a door prize of a big knitting bag filled with yarns and other goodies! She was delighted!!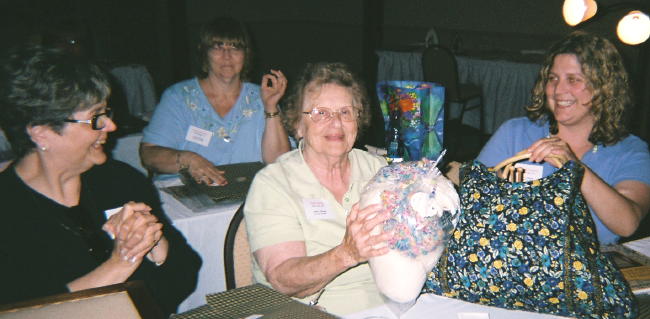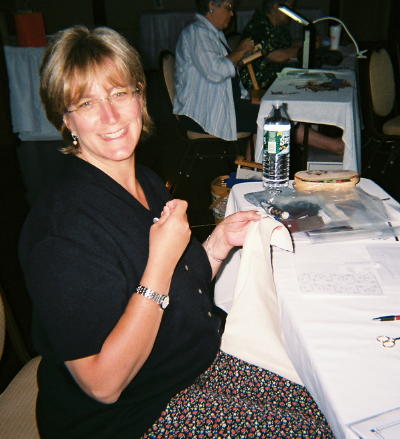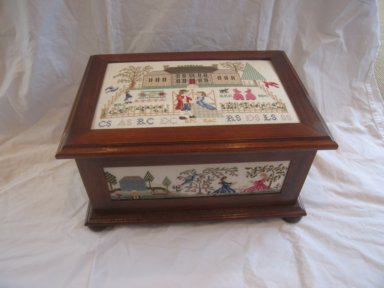 Speaking of doorprizes, I have got to tell you about the many special doorprizes at this retreat! One of the attendees, Karen (pictured left), a Stitcher's Hideaway Alum, donated amazing items from her mother's stash. Karen and her mother, Dolores Schissel, frequently attended seminars together and so very often had the same projects. When Dolores passed away at age 73, she left behind some amazing stash that she just did not have enough days on earth to complete. As a way to honor her mother and to bless other stitchers, Karen donated many projects from her mother's stash, including her mother's unfinished Needlework Casket, along with a hardcover Sampler & Antique Needlework book with a design to be stitched for the casket, along with the linen and most of the threads to complete it. The casket is a reproduction of a seventeenth-century piece found in the Victoria and Albert Museum in London. You can see Karen's completed casket above.
Karen and I wanted to be sure that each item went to a stitcher that would truly want and appreciate it, so what I did was put about 20 of the items on display with a cup by each item so that anyone who wanted particular items could put their name in for a drawing. Let me tell you, there were some happy recipients!! Jackie helped by drawing the names.
Sharon Verbos won the Needlework Casket!
| | |
| --- | --- |
| | |
| Cyndi received the basket and chart for "My Favorite Things Stitching Basket", designed by Ellen Chester of With My Needle, | Denise won The Embroideress with all the silk threads! |
In addition to the many big door prizes, charts that Karen donated were put in the Fun Packs. It was an amazing amount of stash, let me tell you! Karen's Mom had great taste! I would have enjoyed getting to know her! Karen says that she was a very passionate person -- about everything! She appreciated creativity and handwork and all the color, texture, and design of needlework. She also enjoyed painting and knitting. She painted beautiful watercolors and did tole painting. She was a skilled knitter and was kept busy with knitting for fifteen grandchildren. She was a great grandmother and was so encouraging to her grandkids in whatever they were interested in at the time. She always found the strength or the good or something that was important in each of her grandchildren. She would spend hours doing crafts with them. Another hobby Dolores was really into was stamping and cardmaking, and she had a room finished in her basement that was filled with only stamping and cardmaking supplies -- like being in a retail store. She would spend hours down there with grandkids stamping, cutting, marking, hot glue gunning, crimping, and using every gadget that went with that craft. Dolores loved beautiful things and was a fun person. She had a great sense of humor and all her friends loved her. She was one of those people who really LIVED life; the kind of person that you could never forget. It is heartwarming to know that her memory will live on in the many donated projects that have gone to very fortunate stitchers.
Cathy won Just Nan's Barnabee's Quest series,
complete with pullware!

Edie won a limited edition piece from Historic Needlework Guild called Victorian Pocket Purse by Tricia Wilson Nguyen
But those of you who know Stitcher's Hideaway know that there were even more doorprizes and goodies!! Doorprizes came from Brightneedle, Chris's Collection, Earth Threads, Elizabeth's Designs, It's Fine-ally Finished, The Gift of Stitching, Jeannette Douglas Designs, Kreinik, Legacy Designs, Morning Glory Needleworks, Nordic Needle, Rosewood Manor and Stitchy Kitty.
Cathy, Denise, Edie, Mary, Cyndi and Karen all received charts from Stitchy Kitty
| | |
| --- | --- |
| | |
| Elizabeth with doorprize from Legacy Designs | Ivy with doorprize from Jeannette Douglas Designs |
Fun Pack goodies came from Calico Crossroads, Chris's Collection, Elizabeth's Designs, The Gift of Stitching, Glory Bee, Karen Capello, Legacy Designs, Little House Needleworks, Morning Glory Needleworks, Rosewood Manor, The Prairie Schooler, Victoria Sampler, Weeks Dye Works and Zweigart. Thank you, Donors!