Sturbridge, MA 2006 Fun Report!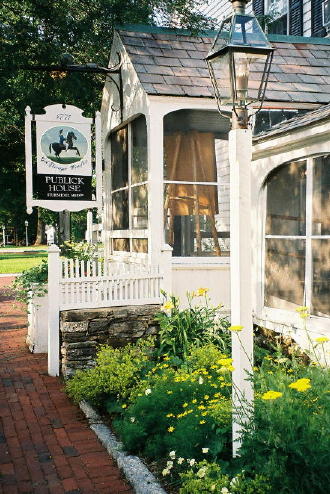 Instructor Jackie du Plessis of It's Fine-ally Finished and I were so eager for this retreat to begin we could hardly contain ourselves! We exchanged a lot of email as the day grew closer. The night before the retreat my stitching buddy Deb joined Jackie and me for a yummy meal at the Publick House, where the retreat was held. This was a wonderful facility. The food was absolutely delicious and the classroom was roomy with great decor. The ceiling was very high and perched up near the ceiling were some antiques. There was a lot of natural light in the room and plenty of space for Chris's Collection, Olde Colonial Designs, and Olde Willow Stitchery to set up shop for us. We spent some time getting things organized for the next day and then headed for a good night's sleep.
The next morning we began to see stitchers here and there, out enjoying the sun mostly and eagerly awaiting the start of the retreat. Shop owners Chris and Pam arrived to get their stash on display and then suddenly it was time for the retreat to begin! I opened the door and they were lined up and ready to go. At this retreat the stitchers were from Connecticut, Georgia, Massachusetts, Maine, New Hampshire, New Jersey, New York, Ohio, Pennsylvania, Virginia, and even Wales! It was a great retreat project and even some designers couldn't resist taking it. Designers Robin of Olde Willow Stitchery and Pam from Olde Colonial Designs took the class, and Chris from Chris's Collection did as well. It was a tough project to resist! Everyone wanted to learn Jackie's finishing techniques in person, and we weren't disappointed. Jackie has excellent written and oral instructions for all her classes. Throughout our classtime
together I picked up so many little tidbits to help me with many different projects, as I'm sure we all did.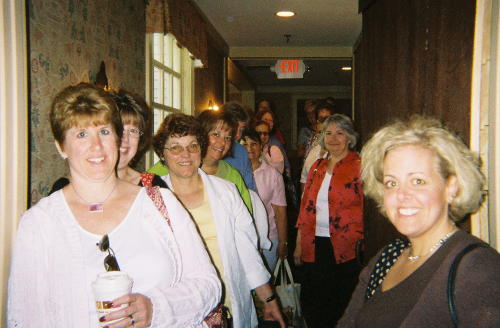 Waiting patiently for the retreat to begin!
As everyone poured into the classroom they picked up out a spot in the classroom and received their Fun Packs filled with goodies from A Whimsical Element, Brightneedle, Brittercup Designs, Calico Crossroads, Cherished Stitches, Chris's Collection, Elizabeth's Designs, It's Fine-ally Finished, Knotted Tree NeedleArt, Lavender Wings, Old Willow Stitchery, Olde Colonial Designs, Rosewood Manor, Stitchy Kitty, Sue Hillis Designs, The Prairie Schooler, The Sweetheart Tree, With My Needle, and Zweigart! It's always fun to go through all the goodies.
Our cool classroom!
We all had about an hour to shop and enjoy coffee and goodies before our first class with Jackie began. There were some great stitched models to see, which, of course, made us want to buy all kinds of stuff! LOL!!! Jackie had a display of some of her beautiful projects, with some kits for purchase. She also had some cool accessory items. Robin from Olde Willow Stitchery had some of her stitched models along with some kits for sale, and Chris's Collection had a huge assortment of Olde Willow Stitchery threads for us to fondle and purchase. Pam from Olde Colonial Designs had great wood items to display stitching along with many stitched models, accessories, and Pam's own unique kits for sale, several of which I have had the pleasure of stitching myself. You can see many of the projects on her website.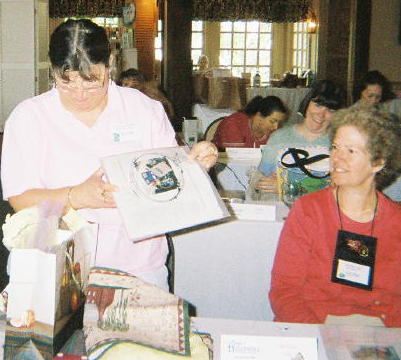 Next we gathered for our class time together. But first, we had to find out who the stitcher was that traveled the farthest -- and handsdown that was Rosemary all the way from Wales! Here's Rosemary going through all the cool stuff she received in a special gift pack just for her. Among the items were some placemats that looked like antique samplers, purchased from Old Sturbridge Village.
Throughout the retreat names were drawn for door prizes donated by A Whimsical Element, Brittercup Designs, Cherished Stitches, Chris's Collection, Earth Threads, Elizabeth's Designs, Finger Work, Glory Bee, It's Fine-ally Finished, Jeannette Douglas Designs, Knotted Tree NeedleArt, Kreinik, M Designs, monsterbubbles, Morning Glory Needleworks, Praiseworthy Stitches, Rosewood Manor, Stitchy Kitty, The Victoria Sampler, and With My Needle. Karen, a very generous stitcher, also donated some fantastic door prizes.
Several doorprizes were given out at the start of our retreat, including one from Stitcher's Hideaway that went to Ann: a stuffed frog that sings What a Wonderful World. LOL!! We enjoyed playing the frog from time to time during the retreat.
Sue gives Ann (left) her frog prize!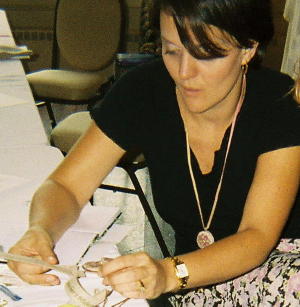 After a lot of laughter, Jackie was introduced and our class time began. We received our Briar Rose Etui kits, and what a joy they were. Jackie chose the best of materials -- gorgeous silk, hand-dyed silk ribbons, silk fibers, linen, scrimshaw, wool stuffing, carved mother of pearl buttons, a wooden thimble pot, ultra suede, glass head pins, oh, so many little details went into the creation of this project. Our Briar Rose Etuis are sure to become heirloom pieces that we will treasure.
I love this picture of Jackie. She was giving someone a personal demonstration, which she did throughout the retreat. She is very personable and approachable. Almost all the photos I have of her are of her helping individuals. How wonderful to have an instructor so eager to teach! We all enjoyed her sweet accent, too. Jackie is from South Africa and only this year became an American citizen. She enjoyed celebrating her first Fourth of July as a Citizen for the first time.
I enjoyed this classroom photo with some aware of the camera, others with their noses in their stitching, others chatting and laughing, someone in the background taking a stretch. It's so typical of the casual atmosphere at Stitcher's Hideaway retreats. It just makes it so much fun.
Lunch time came and we went to a room connected to our class room for our first meal together. We had a choice of New England Chicken Pot Pie or Caesar Salad with Chicken -- a tough choice to make! Both were great, and we followed it up with Dark Chocolate Mocha Mousse! Did I just make you hungry?!? LOL!!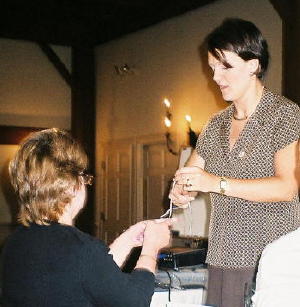 After lunch we had time to shop again and then we resumed our class. Jackie had us make our little pin pot with linen and woof stuffing. It is so cute! Afterwards Jackie talked us through some of the project and then we began stitching our Briar Rose Etui. Here Jackie is providing a demonstration for Cyndi.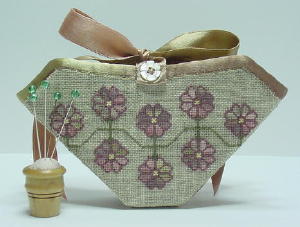 In this project photo you can see the little pin pot we made next to the Briar Rose Etui.

Here is what the etui looks like when opened. The little pin pot sits on top of a scrimshaw piece in the middle. The additional scrimshaw pieces were optional and were available for purchase at the retreat. I plan to add a couple antique items inherited from my grandmother inside mine.

Here are six lucky recipients of doorprizes donated by Thea Dueck of Victoria Sampler. They each received a beautiful chart with accessory packs!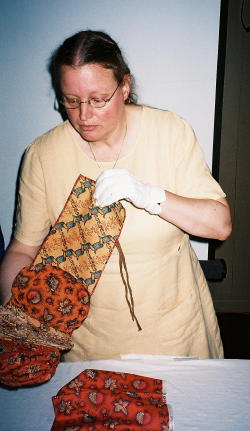 Later that afternoon we had a fantastic lecture by Jean Cantino, Lead Interpreter for Textiles at Old Sturbridge Village. She brought in a selection of sewing tools and accessories along with slides. Her lecture was so interesting -- you could have heard a needle drop! We enjoyed meeting Jean and seeing her display. She was very knowledgeable and answered our many questions. In these photos she is showing some huswifes from the OSV collection, which were stitched pockets designed to carry stitching accessories.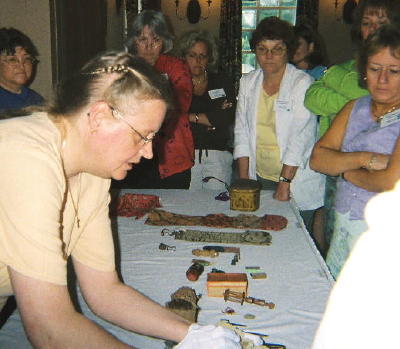 There were many interesting pieces, including the sewing box above.
After our lecture we enjoyed a Barbecue Dinner Buffet on at outdoor terrace. But this was no ordinary barbecue! What a delicious feast! I guess there really isn't anything that is ordinary about the Publick House -- LOL! Just picture these items: farfalle pasta spinach salad with calamata olives, pancetta, oven roatsed tomatoes and feta cheese. Roast potato and Granny Smith Apple Salad with Rosemary Sage Mayonnaise. Tossed seasonal green, herb vinaigrette, charbroiled NY steak with button mushroom ragout, honey barbecued chicken, spicy barbecued pork spare ribs, buttered corn on the cob, cajun roasted potatoes, lemonade and ice tea, watermelon, apple crisp and chocolate pecan pie!!
I'm so glad that the weather cooperated with us and that we were able to enjoy a meal outside.
After our barbeque we had more time to shop and relax before gathering again for a surprise I had for everyone! For this retreat I designed Lovely Ladybug. This design was inspired by my friend Leslie. Leslie's mom had little red spots on her skin, and when Leslie was a child she asked her what they were. Her mom told her they were ladybugs! Many years later, when Leslie's beloved mother passed away, Leslie took great comfort in every ladybug she saw. Her home is filled with ladybug decorations, and I have even nicknamed her "Lady Bug." I designed this to be a business card holder for her, but it can be used to hold little stitching items. There was even some felt with a lady bug design printed on it to use for holding needles!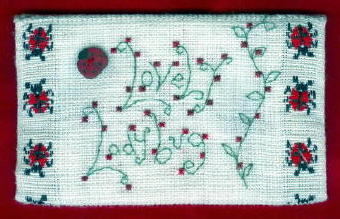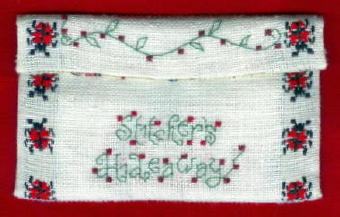 Here's the back and the front, which snaps closed, and below is a peek at the inside so you can see the cute lining fabric. The generous folks at Weeks Dye Works donated threads for this project in Ladybug and Hunter.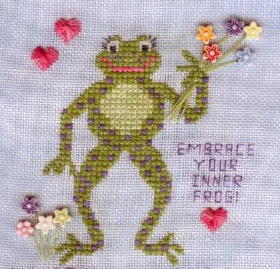 Each attendee also received my Embrace Your Inner Frog design! The threads for this design were donated by JAR Designs. The names for their threads are great! The green in the frog is stitched in Fiendish Frog Dark and Light, and the lips and hearts are stitched in Lovely Lips Medium! The purple is Laughing Lilacs Dark and the the lightest green is Crunchy Celery Light. LOL!
We had fun with the designs and spent time just chatting and relaxing before heading off for bed. Most of us stayed on the property in the Publick House Country Motor Lodge.