Sturbridge, MA 2003 Fun Report!
What a great time we had at the Stitcher's Hideaway in Sturbridge, MA!!
We officially began the retreat on Thursday evening at 6:00 p.m. Stitchers had traveled from NY, PA, MA, NJ, CT, NH, NY, ME, and Wales, and boy! Were we ever excited!!
Awaiting each stitcher was a Stitcher's Hideaway Fun Pack filled with stash and goodies, and a wonderful gift bag from Lydia of Wyndham Needleworks. The Stitcher's Hideaway Fun Packs had donated items from Glory Bee, Calico Crossroads, Nordic Needle, Olde Willow Threads, Weeks Dye Works, Charles Craft, Just Nan, Inc., monsterbubbles, Kreinik, The Prairie Schooler, Rosewood Manor, Finger Work, and Mill Hill. Elizabeth Foster of Elizabeth's Designs also created a design just for the Sturbridge Stitcher's Hideaway stitchers.
There was a yummy New Englander Reception of blueberry scones, hot mulled cider, cheeses and crackers – but it was hard to even think about eating because Wyndham Needleworks, Earth Threads, and Glory Bee had set up mini-shops for us, and we had a stash enhancement frenzy! Eventually we settled down for our first class with Betsy Stinner of Earth Threads. What a beautiful ornament project she had for us! It had rich colors and called for some specialty stitches, beading, and blackwork. Betsy's sense of humor was a delight and her needlework knowledge a real treasure.
| | |
| --- | --- |
| | |
| Betsy Stinner | "House of Dreams" - Our Retreat Project |
We worked on this preface piece to learn the stitches required to complete "House of Dreams."

Betsy's "Christmas Rose" was our bonus class, which was also used to teach us some of the stitches
for "House of Dreams."
You can just imagine that most of us went to our hotel rooms that night to play in all our stash!! Nordic Needle had given us catalogs of all their merchandise and it made great bedtime reading!
The next morning we gathered for a delicious breakfast buffet in the loft. We sat at round tables and this gave us a great chance to chat and get to know each other. Then off we went to our morning class with Betsy. There we worked on a pretty preface piece as we learned the stitches we would need to know for the sampler. Betsy gave us a wonderful historical lecture as we worked on each new stitch. And while we stitched and learned, Lisa from Needle Pulling Thread set up a mini-shop for us, which we pounced upon in another stash enhancement frenzy after our lunch buffet. The folks at the Sturbridge Aisle did a great job with the food and the presentation was wonderful. We had one of the most deadly and delicious chocolate desserts of all time!! After lunch we returned to class with Betsy to continue learning both stitches and needlework history, and at each seat we discovered yet more gift items for us all! This time they were from Needle Pulling Thread.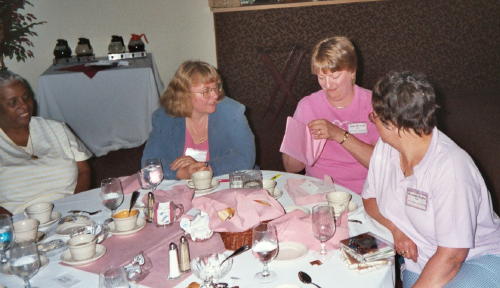 There was great excitement as each recipient opened their door prize!
Linda from Maine opens hers.
Betty unveils her gift
In the evening we gathered for a served dinner followed by drawings for door prizes. Oh, that was a lot of fun!! We all enjoyed seeing what each person received, and everyone received a prize from one of many thoughtful and generous donors. There were items from Stitchy Kitty, Earth Threads, The Victoria Sampler, Glory Bee, Trail Creek Farm, Nordic Needle, Olde Willow Design Group, Charles Craft, Needle Pulling Thread, and Stitcher's Hideaway. We had a good laugh when it was announced that the next door prize was from Trail Creek Farm. As the name for the prize was being drawn, Nancy from MA was saying out loud "Please let it be me….please let it be me….please let it be me!" And wouldn't you know it? Her name was the one that was drawn!! She was one happy stitcher!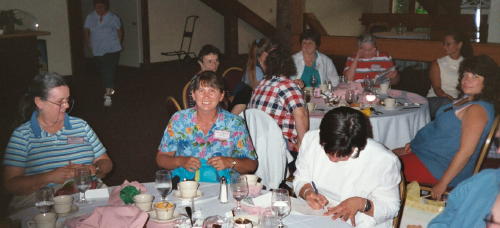 Nancy receives her Trail Creek Farm gift!
Liz from NY, who had attended the Mystic 2002 Stitcher's Hideaway, had commented upon hearing that we had a stitcher from Wales, "Well, I guess I know who will get the prize for the stitcher who traveled the farthest!" Well, she guessed right about that, but what she wasn't expecting was to receive a prize for being our Most Pregnant Stitcher!
Nancy and Donna chat across tables, while Liz received
a gift for being the Most Pregnant Stitcher!
Betsy Stinner (in striped top) and Mr. Betsy (Ken)
enjoyed dinner with the stitchers.
Christine and Debbie have a good laugh
while Jeannette tries to guess what's in there!
Jodi's smile lights up the room!