Stitcher's Hideaway
Mystic 2011
Fun Report!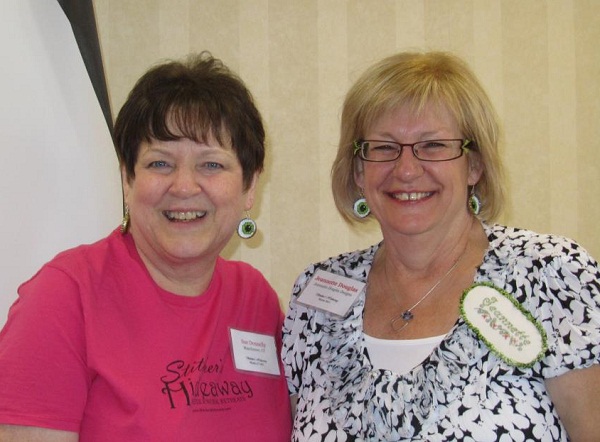 Fun, fun, fun!!!! Oh, why do retreats ever have to come to an end?!? We had a great group of stitchers, a fun and gifted instructor, and a fabulous project to stitch!
We had a very full house with stitchers from CA, CO, CT, DE, MA, ME, MN, NH, NJ, NY, PA, RI and VA. Four ladies travelled from CA and they all lived so close to each other that they were each given a treat for traveling the farthest!
Jeannette Douglas of Jeannette Douglas Designs was our wonderful and talented instructor. She came all the way from Calgary Canada to be with us.
Jeannette was an absolute hoot! Here's a pic of us modeling frog eye earrings that we received as gifts! Hehehehehe....
This retreat had a Fall theme and the classroom was decorated for it. Our gift bags had beautiful fall leaves, apples, and acorns printed on them. Look how neat the classroom looked before we all arrived! LOL!
There were also little pumpkin name place holders for each person's classroom seat.
Everyone arrived ready for fun, and fun we had! There were many familiar faces and new ones, too. We all settled into the classroom and played in our Fun Packs, which were filled with goodies donated by 123Stitch, Chris's Collection, Elizabeth's Designs, Freda's Fancy Stitching, Giulia Punti Antichi, JBW Designs, Lavendar Wings, Morning Glory Needleworks, Nordic Needle, Rosewood Manor, Sew Inspired Needlework Finishing, Tempting Tangles, The Prairie Schooler, ThreadworX, Trail Creek Farm, and Victoria Sampler. We were very blessed by their generosity!
With just a little bit of time before our first class began, many stitchers visited Chris's Collection just down the hall. Chris & Pam set up a wonderful little shop for us. Some stitchers had preordered items and picked them up there, and others explored all the stash and picked up new goodies for themselves.
Here is the class project that Jeannette designed for us -- The Four Seasons of Mystic. Isn't it a beauty! Look at all the wonderful details...and the way the wool border moves you right along from one season to another!
During our two days together, Jeannette taught us many different specialty stitches including Trellis cross, Rhodes, Rice, Gobelin, Triple woven, French knots, Ray, Milanese, Jessica, Satin, Brick, and Pinwheel. It is gorgeous and a joy to stitch! The framing job that Jeannette had done for the piece was fabulous.
Class time was great fun and we learned so much. LOL -- like we learned how quick Jeannette is to laugh!
It was so enjoyable to not only learn from Jeannette, but to also have time to get to know this wonderful designer as a person. (She is quite shy and withdrawn...you know...like me...hehehehe).
Jeannette had a wonderful surprise for us! She gave each of us complete kits for the Four Seasons of Mystic Accessories -- a pinwheel needlebook, house and key scissors fob, and a flower basket pincushion!
The finishing for these items needed some special instruction, so Jeannette took us in groups to another room for first hand demonstrations.
Throughout our time together door prizes were given out, and they were awesome! I had to laugh because some designers had donated brand new releases and when some of the stitchers saw them they got stitchers envy! Luckily some of them were able to purchase the designs in Chris's shop!
Tracy showed Pat her Stitchy Kitty doorprize and Pat made a grab for it! LOL!
The door prizes were donated by 123Stitch, Brightneedle, Elizabeth's Designs, Glory Bee, Jeannette Douglas Designs, Kreinik, Morning Glory Needleworks, Nordic Needle, Rosewood Manor, Sew Inspired Needlework Finishing, Stitchy Kitty, The Gift of Stitching, Victoria Sampler, Weeks Dye Works, With My Needle, and Karen Capello (a very special friend of Stitcher's Hideaway).
We had delicious meals prepared by Mystic Market Catering. Mmmmmm! One night, in keeping with our Fall theme, we had a Thanksgiving Feast -- turkey, stuffing and all!
Some of us dressed for the occasion!
While we had our yummy desserts I introduced everyone to my Show 'n Tell -- my husband Michael and father Bruce. I am so very thankful for both of them. Michael has been wonderfully supportive of Stitcher's Hideaway right from the beginning. Ladies, I married a keeper. He's my gentle giant, loving and supportive, fun, crazy, smart and a wonderful companion -- all I could have asked for and more. My Dad, who is 90, lives with us. Dad is my hero for many reasons, but at the retreat I told people about some of his WW II activities. Since the pictures of us taken at the retreat weren't the greatest, here's a special one I have that represents us quite well!
There is always a lot of conversation at the retreats! Old friendships were renewed, and new friendships began.
Joanne shared a lot of her knowledge with Dodie, a newbie.
Patty & Yvonne, mother and daughter in front, share a common needlework addiction.
| | |
| --- | --- |
| | |
| Denise & Judy | Mary & Debby |
I had a surprise for this group! I designed Oh Glorious Fall and prepared kits for each person to make it into a pillow or banner. It was difficult to capture the true colors in a photograph, but you can get the idea. The satin stitched leaf outline was done in Chili Peppers by ThreadworX, and the leaf was charted by using an actual maple leaf from my front yard! "Oh Glorious Fall! Leaves twirl and spin, then lay like a blanket, for feet to play in!"