Bling in the Holidays
with
Stitcher's Hideaway!
Monday & Tuesday - October 15-16, 2018
at the Publick House in Sturbridge, MA
Featuring
Thea Dueck
of The Victoria Sampler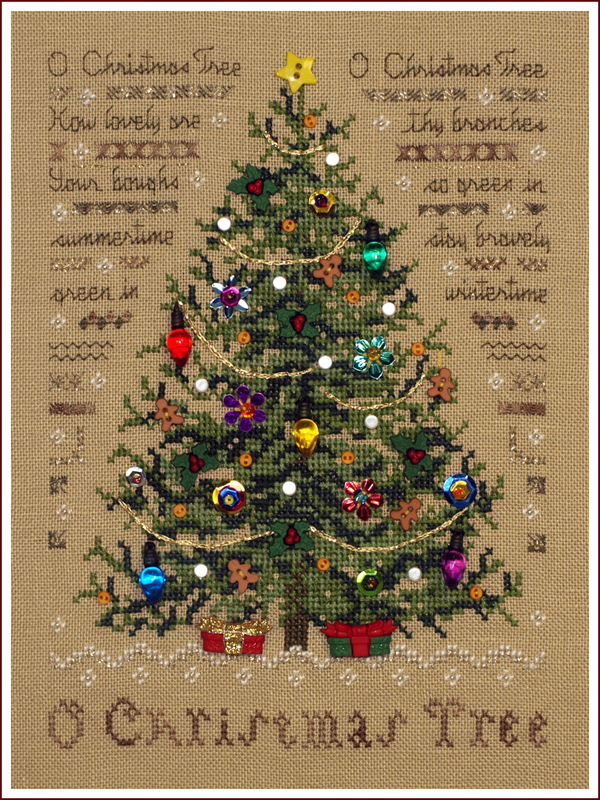 Get your Bling On with Thea Dueck's new Christmas Tree designed for this fun holiday retreat!!
"O Christmas tree, O Christmas tree, How lovely are thy branches!"
We are going to have SO much fun stitching and then blinging our own Christmas Tree at the retreat!!
We'll have prework so that we can get our trees stitched and then during our first day of class we'll be working on the lettering and specialty stitches in the background. Our second day will be Decoration Day when we'll be putting on the bling with the beautiful beads and buttons in our kits and adding whatever other embellishments we'd like to make it our own! Hop over to the Project Description page to read all the fun details and to see a larger picture of the Christmas Tree!!
In addition to two wonderful days of classes with Thea and stash enhancement, we'll also have evening activities like Show 'n Tell -- a time when we can show off our stitching or other crafts, and an optional Christmas-theme Stitching Exchange! Those who wish to participate in the exchange must hand-stitch and finish an object having something to do with Christmas. It could be finished as a needlebook, ornament, pin cushion, fob, biscornu, framed piece, whatever! Bring your gift wrapped finished hand stitched object to the retreat and then participants will draw numbers and pick out a gift in numerical order. It's loads of fun!
Attendees might like to plan on staying an extra day to have time to explore Old Sturbridge Village, admire New England foliage, and maybe even take in a play at the Stageloft.
The retreat will be held at The Publick House Historic Inn and lodging is available there as well. Built in 1771, the Publick House maintains its 18th century ambiance while providing 21st century comforts. The Publick House is located just 1 mile from Old Sturbridge Village. Our meals will all be provided by the Publick House, and I can tell you from first-hand experience that they are DELICIOUS!
Randi Nelson of the The World in Stitches will set up shop at the retreat for our stash enhancement pleasure! YAY!
Follow the links below for all the exciting details!
See you there!
Jen & Sue