Stitcher's Hideaway
Making Memories in Mystic
Thursday-Saturday, December 6-8, 2018
in Mystic, CT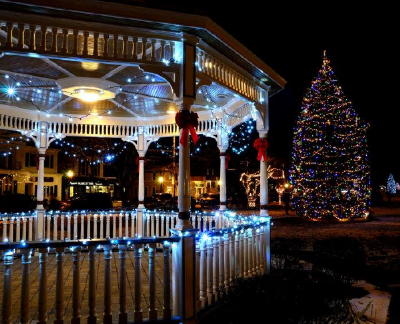 What a perfect opportunity to get some Christmas stitching done before the holidays -- while hanging out for 3 days with wonderful stitching friends enjoying local events and fabulous food!

Our wonderful location for this retreat is the Hampton Inn & Suites in Mystic, CT. We are thrilled with this hotel! The guest rooms, welcoming hang-out lobby with fireplace, dining area, and our stitching room are wonderful! It will be decked out for Christmas while we're there, too! And at night they have a hot cocoa bar! Woo-hoo!
This retreat will be all about the stitching. We'll be bringing whatever we want to work on and we'll have the use of our stitching room from 9 a.m. until we drop each night - Sweet! Our yummy meals will be catered by Coastal Gourmet (Mystic Market) and McQuade's Market. We'll only be about a 1/2 mile away from Olde Mistick Village with its charming shops -- perfect for some holiday gift buying!
The cost of this stitching bliss is $325 for all 3 days and includes your catered lunches and dinners. A deposit of $100 is required to register, and the balance of $225 is due November 1, 2018. Guests of the Hampton Inn & Suites receive a deluxe complimentary breakfast. Guest rooms are not included in the registration fee so that local stitchers can commute to the retreat if desired, but wow -- I'm telling you - the rooms are wonderful and those who do stay there may not want to go back home! LOL!
Registration is limited to just 24 stitchers so don't delay sending in your registration!
Stitcher's Hideaway retreats are casual and relaxed gatherings. You can stitch in your jeans -- or stitch in your pajamas -- it's all good!! We are all together in one room for our stitching and will eat our meals together, too. If you come by yourself, you'll quickly find new stitching friends. Come ready to have a great time!
Registration is now open for this exciting retreat! Follow the links below!
See you there!!
Sue & Jen