Kindred Spirits Retreat II
with
Ellen Chester
of With My Needle
Wednesday & Thursday, October 26-27, 2016
at the Publick House in Sturbridge, MA
The beautiful tiger maple Shaker carrier in this project is the perfect size for holding many of your needlework necessities. This carrier, derived from the oval box tradition, is divided into three sections: a large one in the back and two smaller ones in the front. The bottom of each section is lined with green dupioni silk. An embroidered linen band lines the inside of each section. In addition to the carrier, this project includes a luscious, silk-ribbon-embellished needleroll, plus a pin cube, a scissors holder, a pipkin, and an optional ruler holder.
The Shakers were a religious group who fled England in 1774 to avoid persecution. Their hope was to establish a utopian society in America. They gained a large number of converts in the 1780s and 1790s, and by 1793 there were twelve Shaker communities in New York and New England. By the 1840s, there were about 6000 Shakers living in communities from Maine to Kentucky. Since the Shakers believed in celibacy, they had to rely on converts to increase their numbers. Unable to attract enough converts, their population has dwindled – only three Shakers were remaining in 2013.
Among their many traits, the Shakers are renowned for their beautiful craftsmanship. All of the objects they made served a purpose while using simple designs combined with clever innovations. Oval box making was one example. The Shakers improved on the traditional wooden "pantry box" by adding the distinctive "swallowtail" joint. This kind of joint allows the wood to expand and contract without splitting. Shaker oval box making is a true American craft.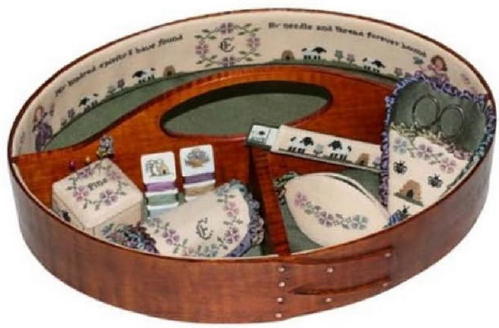 A view of the inside of the carrier which shows one of the
embroidered linen bands, and the pin cube, needleroll,
ruler holder, pipkin, and scissors holder

The Shakers made and sold large quantities of oval boxes and carriers as part of their "fancy goods trade" from about 1890 into the 1930s. Undivided carriers often had a swing handle, were lined with satin, and had a satin pincushion attached to the inside. A poplar needlebook and an emery were often included. The carrier used in this project is a divided carrier with a fixed handle instead of a swing handle.

Stitches Used: Algerian eye, alternating double backstitch, backstitch, closed herringbone, cross stitch, cross stitch over one linen thread, diamond eyelet, eyelet, four-sided, herringbone, mosaic, nun's stitch, Rhodes, rice, satin, Smyrna cross, tent, tied half-Rhodes, tied herringbone, triple cross, and Williamsburg stitch.

Kit Contents: In addition to photos and detailed directions for stitching and assembling the project, the kit includes 36 count linen, silk threads, a tiger maple divided carrier (approximately 12-1/2 inches long x 8-3/4 inches wide x 2-1/2 inches high), dupioni silk, overdyed silk ribbons, mounting boards, cat's eye beads for the needleroll closure and decoration, a custom-made bee marking pin, and tapestry, beading, and curved needles.
Additional views of the needleroll (opened), pin cube, pipkin, ruler holder, scissors holder, and the inside of the carrier.