March 22, 2017
Hello Stitchers!
Itís been longer than usual since I last updated the News Room. In January my husband and I were in a bad car accident. My husband made out pretty good, but I have been dealing with injuries ever since. Every day brings progress, although much slower than Iíd like! Iíve been dealing with whiplash injuries to my neck and back and damage to both of my knees. But nothing was going to keep me from running the 2017 Winter Escape Retreat -- and we all had a great time!! Under doctorís orders I was not allowed to stitch - but that just gave me all the more time to visit with everyone, which I totally love to do! Have cane -- will travel!! I also scooted myself around the room on an office chair with wheels! LOL!!
I still have restrictions on working at my desk due to whiplash, which has delayed creation of Fun Reports for the October 2016 retreats with Ellen Chester (FANTASTIC!!!) and the most recent Winter Escape -- but Iím now able to work for a couple hours at a shot so Iíll get to them as soon as I can.
So let me bring you up-to-date. The 2017 Winter Escape was a fabulous time! Attendees registered for 2 days and then could add on up to 3 more. Altogether there were 48 attendees. They were from CT, MA, ME, NJ, NY, RI -- and even one from FL! Imagine leaving the warmth of Florida to spend time with crazy stitchers during a Massachusetts winter! Fortunately, there was little snow. We even had a couple of unseasonably warm days to enjoy, which allowed folks to sneak out and visit some local shops. It worked out really well to extend the retreat to 5 days and so Iím doing it again. Iíve already booked the dates of February 18-22, 2018. I will be opening registration in May so stay tuned for the announcement.
| | | |
| --- | --- | --- |
| | | |
| It was always exciting when someone would announce that they had a finish! | | The door prizes were amazing -- thanks to many generous donors! |
Iím sure looking forward to the Thanksgiving Retreat in October with Thea Dueck!! Thanksgiving is a favorite holiday of mine. It will be fun to celebrate it early -- especially at the Publick House! They must serve hundreds in their restaurant every Thanksgiving. Our project is a Thanksgiving Sampler that Thea designed just for this event. At the moment I have just 12 openings left. Come join us!
Today I sent a message to those on my mailing list and for some reason my email was rejected as spam for those who use optonline.net and embargmail.com. I donít know what to do about this on my end. Please make sure that StitchersHideaway@cox.net is saved as a contact in whatever email system you use. That might help you to receive the notifications that you requested.
See you at a retreat!
Sue
November 23, 2016
Hello Stitchers!
Thanksgiving is right around the corner now! As I think of the many things I am thankful for this year, I think of the wonderful retreats and all the great stitchers I have come to know through them, We have learned so much together and had so much fun!
In February we had the Annual Winter Escape with 3 days and nights of stitching, in July Jeanette Rees taught her Cubed Stars counted needlepoint project, and in October we had 2 retreats with Ellen Chester of With My Needle teaching her Kindred Spirits Shaker basket design. Stitchers came from CA, CT, CO, FL, MA, MD, ME, NC, NJ, NY, OH, PA, RI, VA and Canada to these retreats. What a blast -- just stitching, shopping, dining, laughing, seeing old friends and meeting new ones! Bush Mountain Stitchery set up shop for us at each retreats for our stash enhancement pleasure, and boy, did we ever stash enhance! LOL! Our times together made for some wonderful memories, thatís for sure!
Iím also so very thankful for the many generous donations from designers and companies that the attendees received. The 2016 donors were 123Stitch, Brightneedle, Bush Mountain Stitchery, Dinky Dyes, Elizabethís Designs, Kreinik, Lizzie Kate, Morning Glory Needleworks, Norden Craft, Praiseworthy Stitches, Rosewood Manor, Samplers and Such, Seraphim Hand Dyed Fabrics, Tempting Tangles, The Prairie Schooler, Udder Cream, Victoria Sampler, Weeks Dye Works, With My Needle, an anonymous donor, and two friends of Stitcherís Hideaway, Linda Mosch and Kathy Roseen. Thank you all so much! You are truly appreciated!
Today I made up two traditional dishes for our Thanksgiving Dinner. We must have them every year or there would be a terrible revolt! Perhaps some of you would like to try out the recipes: Company Sweet Potatoes and Corn Pudding. Michael is getting the stuffing ready for tomorrow. He makes the best! He chops celery, onion and slivered almonds, then adds them to bread crumbs. Next he dumps in a couple cans of mandarin oranges, juice and all. Thatís all -- and it is fantastic! My mouth is watering just thinking of it! Oh my! He just walked in and gave me a sample of it -- delish!!
Just think! Next year weíll have something very special to be thankful for -- the first ever Stitchers Hideaway Thanksgiving Retreat!! Thea Dueck of Victoria Sampler will be our instructor and she has designed a Thanksgiving Sampler just for the occasion. Weíll be enjoying a turkey dinner with all the trimmings at the Publick House in Sturbridge, MA - yum! Iím very excited about having such a perfect Thanksgiving themed design to work on next fall.
And now, my friends, I wish each of you a very Happy Thanksgiving filled with warm thoughts of the many things you are each thankful for!
XOXO
Sue
August 26, 2016
Hello Stitchers!
I just love Thanksgiving and have dreamed about having a Thanksgiving Retreat for many years. I just needed the right retreat project to make it happen. Thanks to Thea Dueck of Victoria Sampler I finally have the perfect project! At my request Thea created her Thanksgiving Sampler to incorporate both the original and a more modern day Thanksgiving celebration and I am totally thrilled with it! Iíve never before seen anything that captures Thanksgiving both Then and Now in stitches, but Queen Thea has pulled it off!
I love the verse she chose for her sampler:
"The year has turned it's circle
The Seasons come and go
The Harvest all is gathered in,
And chilly North Winds blow...
Orchards have shared their treasures,
The fields their yellow grain.
So open wide the doorway,
Thanksgiving comes again!"
The retreat is scheduled for October 2-3, 2017, at the Publick House in Sturbridge, MA. I can hardly think of a better place to hold it then at this historic Inn.
Over the course of the two days, Thea will teach us all the techniques required to complete our sampler. Weíll have some Thanksgiving fun, including a Thanksgiving Feast and an optional Thanksgiving-themed stitching exchange. We are going to have such a wonderful time!
I have now officially opened registration for the Thanksgiving Retreat, so Come, Ye Thankful People, Come!
In other news, I still have some openings for the Kindred Spirits II Retreat -- so thereís still time to get in on this beautiful Shaker Carrier project taught by the very gifted Ellen Chester of With My Needle. You will enjoy her sweet and funny personality and love her teaching style and excellent printed instructions. Ellen will be setting up a boutique of her fantastic designs right at the retreat. Donít miss out!
You can also still get in on the 2017 Winter Escape Retreat, too! Join dozens of other stitchers as we snuggle away during the winter to work on our WIPs (works in progress), stash enhance, show each other our stitching, and thoroughly enjoy each otherís company. You can choose to stay from 2-5 days -- your choice! No instructor -- just Stitchers Gone Wild!
See you at a retreat soon!
Sue
July 26, 2016
The Cubed Stars Retreat two weeks ago was phenomenal! We enjoyed Jeanette Rees design so much. The amount of progress we made in class and then so quickly after returning home was pretty amazing! It was just so much fun to see our stars evolve as we stitched that I think some of us had a hard time stopping -- I know I did! LOL! Hereís some of our progress so far:
Stitched by Robin Leach

Stitched by Deb Milvae

Stitched by Linda Marchand

Stitched by Chris Schweikhard

Stitched by me
I just finished writing up a Fun Report about our time together. Enjoy!
Next up -- in less than 3 months -- are the two Kindred Spirits Retreats with Ellen Chester! WOO-HOO!! At this moment I still have openings, so donít let this one slip by you! Follow the links to the left for all the details.
See you at a retreat soon!
Sue
May 2, 2016
I have just posted the Fun Report with all the great pictures from the 2016 Winter Escape Retreat! Enjoy!
Registrations are already flying in for the 2017 Winter Escape!!
Sue
April 20, 2016
I have exciting news to share about the 2017 Winter Escape Retreat! Attendance at this annual retreat has grown every year until we are now bursting at the seams. Itís just the absolute best winter vacation to gather with other stitchers for days and nights of stitching, stash enhancement, great food, and fun! Just thinking about it gets many of us through the winter. Countdowns to the next Winter Escape begin the day after one ends! This retreat is so loved that attendees have asked me to make the event even longer -- some wanted to turn it into a Stitchers Hide-A-Week and I think thatís a fantastic idea!!
Knowing that not everyone can escape for a week, Iíve come up with a great structure for this annual event. Attendees can now choose their own 2-day Winter Escape during the days of February 20-24, and then add on up to 3 more additional days to make it a....
Stitchers-Hide-A-Week!
WOO HOO!!
Now just imagine hiding away for up to FIVE WHOLE DAYS AND NIGHTS of stitching, shopping and laughing with other stitching addicts! Wheeeeeeeeeeeee!!!!!!!!!!
Registration for the 2017 Winter Escape Retreat is now officially open -- so follow the link and plan your own Winter Escape!
The Cubed Stars Retreat on July 11-12 is just about 2-1/2 months away. Cubed Stars, our retreat project designed and taught by Jeanette Rees, is going to be a lot of fun to work on. We have many colorway and design layout choices to make our own unique Cubed Stars. I am particularly intrigued by the idea of adding batik to the design. I suspect I will be learning many techniques that I can apply to other projects, and thatís always fun. I sure am looking forward to meeting Jeanette. Not only is she a well-known, respected and loved designer and instructor, but she sounds like fun! The two of us are getting together the day before the retreat to explore Old Sturbridge Village. I can hardly wait! There are still openings for this retreat -- so come join us if you can!
The Kindred Spirits Retreat I (October 17-18) and Kindred Spirits Retreat II (October 26-27) each have openings. I can take 3 more in Retreat I and 20 in Retreat II. The Kindred Spirits project is so awesome!! This project, designed by Ellen Chester of With My Needle, is only available through taking her classes. We are very fortunate to have Ellen come to Massachusetts to teach it!
And now....shall I tell you about October 2017?!? Yes! I think I shall!! LOL! Thea Dueck of The Victoria Sampler is returning to teach on Monday & Tuesday, October 2-3, 2017! We are going to have a Thanksgiving Themed Retreat!! Thea and I are excitedly planning this special event. It will be quite awhile before I have all the details to post on the website and can open registration -- so for now, HOLD THE DATES!
I must tell you about a computer problem I have been having for a couple of months. I purchased a new computer and loaded it with Office 2016. I had been using Office 2007, so you can imagine that was a big leap for me with many changes in the software. I had a great deal of difficulty pulling things into Outlook from Office 2007 into Office 2016. In fact, Iím still working on some issues! In the process of figuring it out, I believe that some stitchers who were added to the email list during February and March were lost from the system. :( If you happen to read this and believe you are one of them, just email me and let me know! I donít want you to miss out on any of the fun!
There certainly are a lot of great events to look forward to! I hope to see you there!
Sue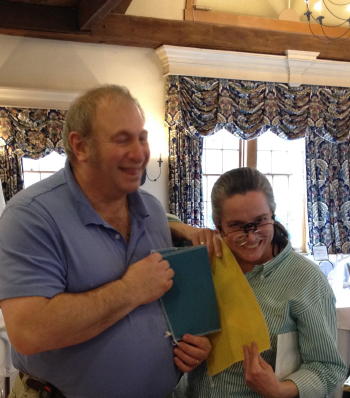 February 26, 2016
It has been a very busy time here! The Winter Escape and Alumni Addicts Day Retreats were just held last week and what a blast they both were! I have been missing everyone ever since!! There were 49 attendees including Bob, our very first male. This was also the first time a husband and wife registered together! First-timers Bob and Kate fit in so well it seemed like they have always been attending! Here they are holding door prizes of beautiful linen that they received from 123Stitch.
I wish every stitcher could have seen all our happy chaotic fun! From the moment we arrived there was a lot of excitement and conversation. We were all catching up with each other and meeting the 13 first-time attendees. It took us awhile to settle down and stitch between all the socializing and stash enhancement. The whole time together was just great fun!
There were so many people that we had two Show Ďn Tell sessions, plus just wandering around and admiring each others works-in-progress left us feeling SO inspired!.
There is really just so much to share about this retreat, but I will wait until I finish the Fun Report about our time together so that you can read all about it and see the pictures all at once.
I have some exciting news for you all! First, in just a little over 4 months weíll be having the Cubed Stars Retreat with award winning needle arts designer and teacher Jeanette Rees! Donít miss this opportunity to take a class with Jeanette! She has taught for ANG, EGA, EGA chapters, retreats and retail shops - what an impressive background. Some of the attendees at the Winter Escape Retreat have taken classes with her and they all spoke very highly of her. The project sheíll be teaching is her Cubed Stars. This design offers many color and design variations that weíll each get to choose from to make our Cubed Star our own. In addition to the 10 colorway options you can see on this website, Jeanette with have other colorways for us to choose from at the retreat! Come join the fun!
Also, because the Kindred Spirits Retreat on October 17-18 featuring Ellen Chester of With My Needle filled up so rapidly, I have opened up a second retreat - Kindred Spirits II on October 26-27 - to give others the opportunity to take this amazing class!
Hmmm....I just realized that running a second retreat will allow me concentrated time to continue working on the project since Iíll be at both sessions! YAY!!
Lastly, next yearís Winter Escape and Alumni Addicts Day will be turning into a Stichers Hide-A-Week!! Yes, you read that right! Iím working out details now and will keep you informed as it develops! Woo-Hoo!!!!!!!
For those of you on Facebook, connect with me here for online fun! https://www.facebook.com/sue.donnelly.12
See you at a retreat soon!
Sue